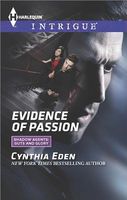 Series:
Shadow Agents: Guts and Glory
(Book 3)
Trusting the wrong man had almost cost EOD agent Rachel Mancini her life. Now, years later, the killer's back to make the hit he missed. But he won't succeed while Rachel's gorgeous partner, Dylan Foxx, is on the case. He's been the sexy ex-lawyer's friend for years and will do anything to keep her safe. And though it could prove fatal, he wants her in his arms…and his bed.
But first he has to stop the madman obsessed with Rachel. Ex-SEAL Dylan has the skills and determination to meet every danger the twisted assassin can unleash. A relationship has never had a place in his life…until he senses Rachel wants him as badly as he wants her.
Very good book that started with action and never stopped. It starts with Rachel, a military lawyer, held captive by a man she thought she was in love with, but who had been hired to kill her. She was rescued by agents of he EOD, one of whom was Dylan Foxx. He swore to her then that she was safe and he would make sure she stayed that way. Shortly after that, Rachel herself joined the EOD and became part of Dylan's team. They became partners and very good friends.
What Rachel didn't know was that Dylan felt more than friendship for her. He has been attracted to her from the beginning, but has worked hard to maintain their professional relationship. He was doing a god job keeping himself under control until the killer returned, determined to finish what he had started. With the stress of knowing that she's in the crosshairs again, Rachel realizes that she's feeling more than just comfort from partner and friend Dylan. She's always known he was sexy, but suddenly her hormones are getting in on the action too.
I loved the relationship between Dylan and Rachel. There is definitely a mutual respect on their professional sides. Rachel is well aware of his capabilities as he has saved her life on more than one occasion. Dylan knows what Rachel can do, as he trained her himself. But when "Jack" returns and Rachel is in danger, Dylan's feelings for Rachel overcome his ability to see what she can do and he goes a bit overboard in trying to protect her. I loved seeing her insist on her own involvement in whatever actions are planned. When Dylan goes too far in his efforts to protect her, and Rachel finds out why, she feels hurt and betrayed. I really liked seeing Dylan realize what he had done and then try to figure out how to fix it. He learns a lot about himself thanks to her.
The suspense of the story was fantastic. The first encounter with "Jack" definitely shows just how awful he is. But there's also a hint that his treatment of Rachel is different than the way he handled his other victims. When he reappears three years later to finish what he started, that obsession is even more obvious. I liked the part that Noelle, the profiler, played in giving insight to the way that "Jack" was behaving. There were some very interesting twists to his actions and the motivations behind them. The final confrontations were intense and had me on the edge of my seat as I waited to see if everyone was going to make it through to the end. I liked the epilogue and its setup for the next book.