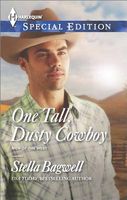 Series:
Men of the West
(Book 29)
SADDLE UP FOR THE LOVE OF A LIFETIME
After a losing her heart -- and her baby -- to a disastrous romance, Lilly Lockett has her mind on only one thing: her job. She's come to the Silver Horn Ranch in Nevada to look after the Calhoun family patriarch, nothing more. But encountering rakish ranch foreman Rafe Calhoun, it's fireworks at first sight!
Playboy Rafe knows his grandfather's new nurse is all wrong for him. He decided long ago that relationships just aren't in the cards. A few dates, then move on -- that's been his motto. But an attempt at a casual affair with Lilly soon becomes all too serious…for both of them. And soon Rafe has to make a choice: to keep flying solo, or risk everything for a future with the woman he's come to love.
Good story about two people who are afraid to risk their hearts. Lilly is the new physical therapist for Bart Calhoun. Rafe is Bart's grandson and the ranch foreman. The sparks fly when they first meet, and they aren't all from the attraction they both feel. I loved that first meeting and seeing Rafe run up against a woman who doesn't immediately fall at his feet.
Rafe is a guy who doesn't stay long with any woman. He'll see one he likes, have a few dates, and then move on before it can become serious. He has had some loss in his life and witnessed what it has done to the people left behind, and he wants no part of that kind of suffering. He figures if he doesn't love,he won't have to worry about being hurt.
Lilly had been in love and then betrayed by the man she cared for. Not only did he cheat on her, but when she became pregnant he wanted nothing to do with the baby. She was devastated when she lost the baby and swore she'd be a lot more careful about getting involved with another man.
Rafe looks at Lilly as something of a challenge. Normally when he's turned down for a date, he simply moves on, but there's something about Lilly that he just can't get off his mind. When he talks her into going out with him they have a nice time, but Lilly makes it clear that she doesn't want to get involved with him. Lilly is actually a lot more affected by him than she lets on, but she's spent so long protecting herself that she's not sure she's ready for someone like Rafe.
They agree to spend time with each other, as long as they can keep it casual. The more time they have together, the deeper their feelings grow, even though they try to deny it. Rafe is especially hard hit as he has been avoiding even the idea of love for so long. I loved seeing him get more and more invested in them as a couple, even as he tries to convince himself that he could walk away at any time. When they split because Lilly wants more than Rafe thinks he can give, he starts to realize just what he's given up. His pain makes him do and say some stupid things, but some advice from his father finally makes him think about what he really wants.
Lilly starts out their relationship just thinking of Rafe as a way for her to get back into living. She knows he'll never settle down, as he's made no secret of his views. He's the first man in years who has made her even think about getting involved. I loved the way that she didn't fall for his lines and really pushed back at him. "Go find the nearest mirror and tell the guy who's looking back at you that he's not quite the Romeo he thinks he is." just made me laugh and root for her. She really thought that she could have a casual fling with him, but the longer they were together the more she realized that her heart was really at risk. I liked the way that she let him know her feelings even though it caused trouble between them. After some time apart, and an enlightening conversation with her mother, she discovered that she had been letting her own issues affect what they might have together. I loved seeing the two of them come together, finally opening their hearts to the possibilities. The epilogue was sweet.
I also enjoyed the family dynamics. The Calhouns are a large family with very strong personalities. We met most of them in
The Baby Truth
. Rafe's grandfather, Bart, made an especially strong impression and not a very good one. In this book we see a different side of him and he is much more likable. I also liked Rafe's interactions with his brothers. It's obvious that there's love and respect, but the relationships are realistic in that there are also conflicts that arise and have to be dealt with. I can't wait to read stories involving them.