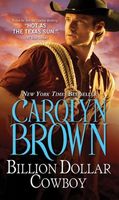 Series:
Cowboys and Brides
(Book 1)
A Billionaire Can Buy Anything...
Colton Nelson was twenty-eight years old when he won the Texas Lottery and went from ranch hand to ranch owner overnight. Now he's desperate to keep the gold diggers away. It shouldn't be too hard to find a pretty girl and hire her to pretend to be his one-and-only.
Or Can He?
Laura Baker's got mixed feelings about this--she's on the ranch to work, not to be arm candy. On the other hand, being stuck for a while in the boondocks with a gorgeous cowboy isn't half-bad.
What neither Colton nor Laura expects are the intensely hard lessons they have to learn about the real cost of love...
This was a really fun book. Colton is a cowboy who is now a billionaire and being constantly pursued by women who are more interested in his money than him. Laura is on the ranch to work off a debt to her cousin, who is Colton's best friend and financial adviser. Colton's family and friends come up with an idea that will give Colton a break and Laura the chance to pay off her debt faster. They want Colton and Laura to pretend to be involved. Colton's desperate and Laura just wants her debt gone, so they go along with it, not expecting their fake relationship to start to feel very real.
I loved both Colton and Laura. Colton was just an ordinary cowboy until he won the lottery. Now he has a ton of money and no peace from being pursued. When someone drugs him, his family decides to step in and help. First they set up Colton and Laura to make it look like there's something going on, then they let them in on the plan. Colton and Laura aren't too thrilled with the idea at first, but they're willing to give it a shot. It isn't too long before the fake relationship starts to feel real, but both of them have some things holding them back.
Colton was raised by his grandmother after his parents died in a crash. His parents were passionate people and fought a lot. The last thing he remembers of them is their fighting, and then they were gone. He associates fighting with separation, and two people together will fight, therefore commitment will bring separation. And that's just too much pain. He also has trouble talking about his feelings. But Laura understands him and being around her doesn't make him feel the same way he does around others.
Laura and her sister were raised by their aunt after their mother died. Laura never knew her father. She sees that any relationship is headed for disaster because sooner or later someone is going to leave. Why start something that will only end in heartbreak. She feels like she was important enough for her mother to fight for her health and not die, so why would anyone else care for her like that. She feels like Colton really cares for her, but she has a hard time trusting that it's enough.
I loved seeing Colton and Laura getting to know each other. Colton is sweet and kind and hasn't let the money go to his head. He still works hard on the ranch. At first he wonders if Laura is scamming him the way that others have tried to do, but soon learns that she is just as real as he is. It was fun to see his playfulness when he showed her the pool and the gym. He was surprised to see how well she fit into life on the ranch and that added to the feelings that were growing for her. There's also some really hot chemistry going on between them that he has no trouble accepting, it's just that pesky "L" word that is creating problems.
Laura started off just wanting to pay her debt and leave. She's not really comfortable among people she doesn't know and Colton's money freaks her out a bit. She's not happy about her cousin's machinations to get her to help Colton, but she'll do it to have a chance to see her sister. She discovers that he's much more down to earth than she expected, and begins to like him for who he is. I liked the fact that his money means absolutely nothing to her, that it is more of a negative than a positive for her. She's really nervous about a couple of the events she has to attend with him, but has a better time than she expected. She still doesn't feel like she fits in his world. Her feelings grow for him, but she isn't ready to make their relationship real without knowing that he feels the same. I loved the fact that they could actually talk things out when they had an issue.
I loved the secondary characters and the richness they added to the story. Grandma Maudie was a trip of an old lady. She has a heart of gold, raised Colton and is now raising her niece Roxie. She doesn't put up with any crap from either one of them. Roxie was another one that I loved. She's a teenager who also had a less than stellar mother. Laura sees a lot of herself and Janet in Roxie, and relates to her very well. I loved seeing the changes in Roxie that came from being around Laura. I also loved the way that Laura was there for Roxie, especially with the girl's problems with a classmate. Laura's sister Janet was a character that had to grow on me. Her attitude at the beginning made me realize why Andy Joe had set the conditions he had. I really wanted to smack her for the things she said about Laura's relationship with Colton. I was happy to see the changes she started to go through, and for Laura's sake hope she sticks with it. It was fun to see various other residents of the town and their effects on the relationship between Colton and Laura. I'm looking forward to reading the other books in the series.