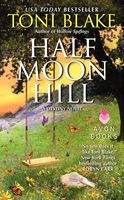 Series:
Destiny
(Book 6)
You never know what destiny has in store . . .
A rugged loner and ex-biker-gang member, Duke Dawson is looking for some peace and quiet while recovering from an accident. But when Anna Romo comes wandering through his woods and into his cabin, she completely rocks his world. The last thing he expected or wanted was to find himself hungering after a woman whose eyes held hurt even deeper than his own . . .
Running from a troubled past, Anna is building a new life in Destiny. When she first meets Duke, she's terrified -- but something about him calls to her very soul. The hard-bodied rebel is soon helping her turn her new home into a bed and breakfast, and close quarters quickly lead them into her bed. Their passion is palpable, but can she convince a man who has turned his back on life to take the biggest leap of faith of all and fall in love?
Lovely conclusion to the series, and an incredibly emotional read along with it. We first met Anna in
Willow Springs
, when she returned to Destiny after being kidnapped as a child. While it was great to see her reunited with her family, she wasn't a very likable person. It's a few months later and she has bought a big old house that she's renovating and turning into a bed and breakfast. She's trying to get her life back together. Duke made a brief appearance in Lucky's book
Whisper Falls
, but then disappeared again. He's back, dealing with his own life's upheavals and hiding out in an old cabin near Anna's house.
I loved getting to know more about Anna. Her life had been turned upside down when she discovered that she had been kidnapped as a kid and raised by someone else. Not having grown up in Destiny, her return has been difficult. She doesn't have the roots and connection that everyone else has and it makes her feel a little lost. The house she is fixing up is a little outside of town and gives her the space she needs to adjust to her new life, while being close enough for her to feel part of it if she wants to. She's very independent and resists asking her brothers for help with the house. When she first finds Duke living in her woods she is frightened by him, but once she knows who he is the fear goes away. She sees in him the same kind of unhappiness she feels, and also an attraction that can't be denied.
Duke has been hiding out from his memories and his friends. After an accident that injured him and killed a friend, all he wants is some peace and quiet. Instead, he finds Anna invading his thoughts and giving some purpose to his life. He offers to help her with the repairs to the outside of her house, as long as she doesn't tell anyone he's there. He's also really attracted to her, but she's his best friend's sister and he's not so sure getting involved with her would be a good idea.
As they work on the house together, Anna and Duke develop a closeness they've not felt with anyone else. Their attraction to each other really takes off, and they agree to a "light and fun" time together. It isn't long before Anna sees that there's more to Duke than the bad boy biker, and she wants more than he seems willing to give. Duke would love to stay around, but with the things he's done in the past and his current frame of mind, he feels that he can't give her what she needs. I loved his conversation with himself at the end as he finally realized that Anna was all he needed to be whole again.
I enjoyed catching up with some of the other characters. There was plenty going on and not all of it was good, but it was realistic. I also liked the secondary story with the diary of the former owner of the house. There was an interesting twist involving it at the end.