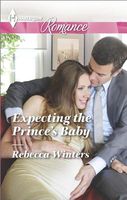 Series:
Princes of Europe
(Book 1)
Abby Loretto's decision to become a surrogate mother to the Mediterranean's premier royal couple is the bravest thing she's ever done…
When Prince Vincenzo is tragically widowed shortly after Abby becomes pregnant, her heart goes out to the prince. Abby quickly becomes the focus of Vincenzo's hope, but she must use all her courage to ignore their growing attraction…she is a commoner after all.
But Vincenzo is determined: he will fight royal protocol because Abby is his baby's mother…and to stay that way she must become his wife!
Good book. Abby had volunteered to be the gestational surrogate for Vincenzo and his wife because she felt it was a way to repay him for saving her life when she was seventeen. She and Vincenzo had been friends since her family had moved to Arancia when she was twelve. When his wife died shortly after Abby became pregnant she knew things were going to be hard for him. He begins to focus on the coming baby and making sure all is well with Abby.
Vincenzo was carrying a bit of guilt over his marriage. It had been an arranged one, and though his wife had loved him, his feelings for her were closer to friendship and respect. She had wanted a baby very badly, but after three miscarriages the odds weren't good. He went along with her plan to use a surrogate because it would make her happy. They were pleased when Abby was one of the applicants because they knew her well. After his wife's death, Vincenzo found himself spending more time with Abby, not just because of the baby, but also because of their longstanding friendship. He didn't expect to start feeling more than friendship with her.
Abby had had feelings for Vincenzo for years. She knew nothing could every come of it, so she was content to be his friend. She considered her offer to bear their child the greatest gift she could give them. Abby was heartbroken when his wife died, knowing that his child would grow up without its mother. The longer she carried the baby, the more she felt like it was hers, but she had promised that she would have no contact after the baby was born.
Abby is very aware of the fact that if Vincenzo is seen spending time with her, there will be gossip about whether they'd had an affair while he was married. She works hard at keeping him at a distance in order to protect him. Vincenzo sees the truth of what she says, but doesn't want to give up his time with her. I liked his creativity in finding a way that both can have what they need. I loved the slow growth of their relationship from friendship to love. Vincenzo eventually realized that he'd always loved Abby. I loved seeing him figure out how to find her after the baby's birth and then to go after what he really wants for his life.