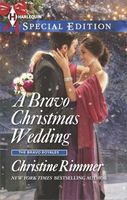 Series:
Bravo Royales
(Book 9)
LOVE ON THE RANGE?
Princess Aurora Bravo-Calabretti is wishing for a mountain man this Christmas! But her most unroyal crush -- rancher Walker McKellan -- insists that they remain "just friends." Now he's her round-the-clock bodyguard while she is the maid of honor at her cousin's holiday wedding. Rory can't resist this Colorado cowboy…but she wishes she was walking down the aisle to meet Walker at the altar!
Both the best man to the groom and Rory's bodyguard, Walker can't shake his charge. As he begins to see Rory in a different light, a surprise snowstorm strands him with his princess…and sparks ignite into a holiday love affair! Can their Christmas passion blossom into a very Bravo happily-ever-after?
Wonderful conclusion to this fun series. Rory has gone to Colorado to be the maid of honor at her cousin's wedding. She's met by Walker, a man that's been a friend to her and her family for several years, and who she's cared for just as long. She thought she'd finally convinced her parents that she no longer needed a bodyguard, only to discover that Walker would be serving in that capacity during her stay.
Walker didn't mind pulling bodyguard duty until he suddenly started seeing Rory as more than just a friend. Now he's fighting those feelings with everything he has. He feels that there are a couple things working against him having a relationship with Rory. First and foremost, she's a princess and he's just an ordinary guy. Second, he's been married once and it didn't work out. He had fallen hard for his ex and recovering from the hurt she inflicted had been difficult. He's just not willing to risk it again.
I loved seeing Rory and Walker together. They had been friends for a long time so there's plenty of history between them. It was fun to see him deal with her bad mood when she first arrived. He knew just what to say and do to snap her out of it. Rory had loved him for years, and had even made a move on him a few years earlier and had suffered from his rejection. She had resigned herself to being friends only, until she sensed that he was finally looking at her as a woman. Now she feels as though she has a chance at the life she really wants. I loved watching her show Walker how much she loves the ranch and the town, and that she isn't anything like his ex. Meanwhile Walker is trying desperately not to think of her as anything but a friend, and not being very successful at it. When that first kiss finally happens, he's overwhelmed with the way it makes him feel, but still refuses to accept the fact that he can have it all. Even though they have some scorching hot times together, Walker continues to insist that love is not in the cards for him.
His misery when Rory leaves to go back home is well deserved. I loved the lecture he got from his brother and how he starts to see what an idiot he was. I loved the ending and the way he surprised Rory, especially as he finally admitted his feelings. The epilogue was fantastic, showing them taking the time together to really get to know each other as more than friends.