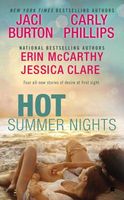 Passions ignite in these all-new stories from four bestselling masters of contemporary romance?
In Jaci Burton's "HOPE SMOLDERS," struggling divorcée Jane has put her personal life on hold to raise her kids -- until she runs into Will, her ex's former best friend, who convinces her it's time to start having fun again.
This story is the introduction to Jaci Burton's new series. I've already read the first book in the series,
Hope Flames
, and really enjoyed it, so I liked going back and reading about Jane and Will. Jane is the single mother of two who has been struggling since her husband walked out two years ago. All her energy goes to taking care of her kids, her house, and her two jobs. There isn't a lot of time for fun.
Will is surprised by the attraction that he feels for Jane when he sees her again. He feels guilty about not checking up on her and the kids after her husband left them and decides that now is a great time to introduce some fun into Jane's life. So he talks her into a date with him, which goes really great - until an emergency with her daughter breaks it up.
Jane had a great time on the date and the "afters" were wonderful. Will was even supportive and caring with her daughter at the ER. She worries about risking her heart and those of her kids by getting involved with Will. Over the next several weeks things go great as Will makes a place for himself. Jane is very independent and reluctant to allow herself to depend on anyone, especially a man, which ends up creating some conflict. Will was a real sweetheart of a guy. He wanted to help Jane have fun again, but he was also interested in the kids. I loved seeing him make sure there was plenty of time with them as well as alone time with Jane. When they run into a rough patch, I really liked that Will reacted realistically with anger and hurt, but was able to see her point of view after he had a chance to calm down. Jane's issues were also realistic, though she had to have them pointed out by both Will and Chelsea before she was able to let them go.
I liked the ending and seeing them work out their issues. I especially liked Will's understanding of Jane's fears and that he shows he has the love and patience to persevere.
Carly Phillips takes you back to the town of Serendipity, where overworked Alexa has an instant connection with a sinfully sexy football star on the dance floor. A one-night stand evolves into multiple nights when Luke decides to teach the good doctor about his own brand of fun. But when it's time for him to leave town, will these "PERFECT STRANGERS" be able to say goodbye for good?
Loved this story. Alexa is an overworked doctor who takes a night off to help a friend by taking her out. She meets Luke, a pro football player who is in town for a few days visiting a friend and the chemistry between them is hot. After a couple nights together, Luke sees a need in Alexa that he's more than happy to fill.
Alexa always wanted to be a doctor and her personal preference was toward pediatrics. But her father, the current chief of staff of the hospital, has been grooming her to take over his position when he retires. She works long hours in many different parts of the hospital, hasn't had a date in months, and barely has a social life with her best friend. There's something about Luke that got her attention that very first night and made her forget about work for awhile. When she gets called to the hospital for an emergency, she finds Luke waiting for her when she's done, offering to take care of her.
Luke was drawn to Alexa from the moment he met her. First he saw her beauty and felt their physical attraction. He saw the loyal friend when Cara needed her for backup. Then when Cara got hurt, he saw her change into the intensely capable doctor. He is fascinated by all the layers he sees in her. After taking her out for breakfast and then spending the next 24 hours with her, he really wants to get to know her better.
Alexa gets a little spooked by the intensity of what she's feeling for Luke and tries to pull away, but he doesn't let her get away with it. I loved their conversation when she owns up to what she did. Luke wants a chance to show her how to have some real fun, and has no trouble standing up to her father to make sure she gets it. I really enjoyed the mental image of her father standing there with his mouth hanging open because of it.
The time with Luke, and the example he has set of having a balanced life, makes Alexa more aware of how unhappy she has become with her life as it is. When Luke invites her to come to Texas with him and meet his family, she has some hard truths to face. Meanwhile, back in Texas, Luke is still hopeful that things aren't over between them. I loved Alexa's solution and really hope to see them appear in a later book to see how they are doing.
In Jessica Clare's "THE LEGEND OF JANE," an intrepid Bloggess catches the eye of local law enforcement when she gets caught trespassing. Luckily, Luanne wouldn't mind getting handcuffed by Officer Hotness?
Luanne has come to Bluebonnet to live with her sister while she is out of work. To pay the bills left over from a sleazy boyfriend, she has a video blog of her doing crazy things. The income from the ads is her only income right now. The story starts with Hank finding her filming herself attempting to do "cowtipping" in a local field. She wants to film him arresting her, and he isn't going to cooperate. Both of them are attracted to each other, but they seem to be total opposites in personality.
Hank comes from a long line of cops and likes what he does. Bluebonnet has been pretty quiet up to now and he really doesn't want Luanne's kind of craziness messing that up. But there's something about her fearlessness and fun that really appeals to him. They start dating and having a good time together, but her blog antics are always at the back of his mind. Hank is very conscious of his place in the community and fears what could happen if her actions start to reflect badly on him.
Luanne started the video blog as a way to pay off the bills that accrued when her ex-boyfriend ran up credit cards in her name. She got caught by Hank while filming one of her pieces, and was immediately attracted to him. They start dating, but she knows he has some issues with the things she does for her blog. She keeps doing them in spite of it.
I had a hard time connecting with these two. I got really frustrated with Luanne because it seemed like she was ignoring the very real problems her videos were creating. Hank's concerns didn't appear to bother her at all, which is not the attitude you should have about someone you supposedly care for. Meanwhile, Hank seemed to be pretty uptight about her work. He seemed to like the way she was so different, but wasn't willing to see that what she did wasn't hurting anyone. He was too concerned about the way it looked.
Though it all worked out in the end, I hope that they both learned a little bit about themselves and their relationship.
Single girl Chelsea is tired of feeling like the fifth wheel on her weekend jaunt to Lake Placid, until she gets stuck out in the cold and finds a muscular knight in shining armor to warm her up -- in Erin McCarthy's "ICE PRINCESS".
This story makes me think of the Sesame Street song "One of these things is not like the others". The anthology is Hot Summer Nights and the three other stories take place during the summer. This one is in the middle of winter. Huh?
That being said, it was a cute story. Chelsea is on a ski weekend with some friends. She was supposed to be with her boyfriend too, but they had broken up. She feels a little out of place as the others are still paired up. When she gets locked out of her room on the balcony Brody comes to her rescue. There's a definite attraction between them, but they miss connecting after the rescue.
Brody is a former skiing champion who is now one of the ski instructors at the resort. He's happy to see Chelsea again, as she ends up being his student the next day. The ski lesson was pretty funny, as Chelsea is a total klutz on skis, but she has a great attitude and sense of humor. They make arrangements to meet later, and things get pretty hot from there. They are well matched and feel like there is more to what they could have than just hot sex.
I really liked the way that they made the commitment to spend more time together after that weekend and really get to know each other. Loved the ending and how it all worked out for them.