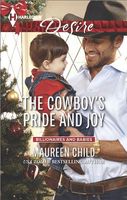 Series:
Billionaires and Babies
(Book 51)
All former Marine Jake Hunter wants is peace and quiet. But when his business-minded mother sends her assistant Cassidy Moore from Boston to see him about a long-standing family dispute, chaos ensues. Their attraction rages out of control as a snowstorm strands them on his Montana ranch.
Flash-forward fourteen months: Cassie can't bring herself to tell Jake she's had his child. But when his mother interferes again, Cassie rushes back to Jake...just in time for another blizzard--and for the Christmas spirit to open one reclusive cowboy's heart.
Very good book. Jake came back to the family ranch after his time in the Marines. After his experiences all he wants is peace, quiet and wide open spaces. His mother isn't happy that he has no interest in the family media empire back in Boston, but after several years of trying she has accepted his decision. All that remains is to sign off on the paperwork, so she sends her assistant Cassie to Montana with the paperwork. While she's there a blizzard strands her on the ranch and their attraction blazes hot. Fourteen months later a threat to her son sends Cassie to Jake for help. They have to find a way to deal with each other and do what's best for Luke. To top it all off, another blizzard has them trapped together again.
I really liked both Jake and Cassie. Both of them had things from their pasts that kept them from opening their hearts to the risks of love. Jake had come back from the war with memories that kept him from being able to celebrate the joys of the holidays. He also had locked away his heart from risking it on another woman. He had been married to a woman who hated his life on the ranch and had taken his love and destroyed it. He no longer trusted both his judgment about women, or that they are honest about their feelings. When Cassie shows up at the ranch the first time, he's attracted to her but wants her gone as soon as possible. From the beginning he senses that she's different, but can't bring himself to take a chance. When she comes back, this time with the son he didn't know about, he knows he's in trouble. He hadn't been able to forget her. Now it just takes one look at Luke for him to lose his heart to the boy. He's angry that he's missed out on so much and is determined to keep Cassie and Luke in Montana. He's still refusing to admit that he has feelings for Cassie because he expects her to be like his ex-wife. But as the blizzard hits and he sees Cassie doing things his ex never would have done, he wants to believe that she's different. And as the days go on, Cassie's actions start to tear down the walls that have kept him from believing he has a chance at happiness. I understood his anger at not knowing about Luke, and loved seeing him get all gooey over the boy. He may not have been expecting to be a father, but he was determined to be a real one, even if that meant marrying Cassie. His reasons for not celebrating Christmas were heartbreaking, but I really enjoyed seeing him get eased back into it by Cassie. When he finally realized what his feelings were and what he had to do, I loved what he did to show Cassie the truth.
Cassie has also been protecting her heart. As the oldest of three in her family, she remembers when her father abandoned the family and how hard her mom had to work to support them. Her mom died when Cassie was nineteen, leaving her to raise her younger brother and sister. Even though her brother is grown, with a family of his own and her sister is studying to be a doctor, she still avoids anything she considers irresponsible. Her attraction to Jake goes against everything she believes in, but she also decides that maybe she deserves a bit of fun. By the time she leaves after the blizzard, she realizes she's in love with him, but also that he has no interest in being loved by anyone. When she discovers she's pregnant, she doesn't tell Jake, convincing herself that she's protecting Luke from being abandoned by a man who can't or won't care about him. When her sister and brother conspire with Jake's mom to send Cassie running back to Jake, Cassie is left with no choice but to ask for his help. I liked the fact that Cassie admitted that she was wrong about keeping Luke a secret. She was surprised by Jake's determination to keep them on the ranch and stunned by his insistence that they marry. She refuses because she's in love with him but can't marry a man who refuses to allow himself to love her in return. While prevented from leaving by another blizzard, Cassie starts a campaign to change his mind about Christmas. I loved seeing all the little things she did to bring the holiday back into his life. I also loved seeing her throw herself into life on the ranch. Unlike Jake's ex, Cassie seemed to love everything to so with dealing with the blizzard. She also showed a great deal of interest in hearing about what Jake does with his days, which is more than his ex had ever done. In spite of her happiness on the ranch, and seeing how great Jake is with Luke, she is still planning to leave. It takes a stern talking to from her sister for her to realize that she's expecting Jake to do what her father did, and is planning to leave him before he can leave her, and that she's giving up without fighting for what she wants.
The epilogue was great. I loved seeing everyone a year later, after all their issues have been overcome. The Christmas setting was terrific with the focus on how important their families were to them.