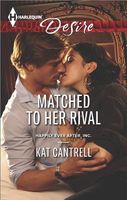 Series:
Happily Ever After Inc.
(Book 3)
She was supposed to match him with someone else…
Elise Arundel won't let anyone compromise her high-profile matchmaking business -- certainly not Dax Wakefield, the doubting tycoon determined to prove she's a sham. She'll find the sexy bachelor a perfect mate. But when her foolproof program matches him with her, what's a woman to do but give in to unbridled passion?
Dax can't believe how the former-duckling-turned-swan is making him question his playboy status…and his vow to bring down her company. Could sultry Elise -- his enemy! -- be the one to change his life from one night only to happily ever after?
This was a really fun series. There's something really satisfying about seeing a fairy godmother come through for some deserving Cinderellas. And it's even more fun when the fairy godmother gets a happy ending of her own, though she certainly didn't have an easy time of it.
Elise was doing an television interview about her business when it was hijacked by Dax Wakefield. He has had it in for her ever since he accused his friend Leo (
Matched to a Billionaire
) of falling for one of Elise's trained golddiggers and lost their friendship because of it. She refuses to accept his maligning of her business and challenges him to become one of her clients. If she finds him a soulmate, he will advertise her business, if she fails he can attempt to ruin her business.
The sparks between Dax and Elise were incredible from the very beginning. Both of them were absolutely confident in their own positions, and their ability to prove it. Dax is a man who doesn't believe that love exists, and that any relationship based on emotion is doomed to crash and burn. Elise knows that there is a soulmate out there for everyone, even Dax. She just has to get him to cooperate in answering the profile questions, which is an experience in itself. I loved seeing just how much alike the two of them were, in spite of their differing views. Both have psychology degrees and are adept at reading each other and pushing their buttons. When Elise finally gets all of the questions answered and entered into her program, she is stunned to find that it selects her as Dax's perfect match. She refuses to believe it and selects someone else to match him up with. That doesn't go so well, largely because Dax can't get Elise off his mind. Because of it, Dax starts pursuing Elise with more intent, and taking advantage of the attraction he knows she feels too. I loved the give and take between them, and seeing Elise try to resist him. I liked the fact that she actually succeeded for longer than Dax expected.
Both of them discover, to their surprise, that they actually like each other and want to spend time together. By doing so, they learn more about each other and themselves, including their biggest fears. It turns out that each have some serious self-esteem and trust issues. Elise has never really gotten over her body issues from when she was heavy, and doesn't trust that anyone can see the person she really is under the figure she works so hard to maintain. Dax worries that he's like his mother, who deserted him when he was young, and is afraid to trust that he has anything substantial to offer a woman. Just as he's beginning to believe that he and Elise could have something together he learns of her lie about who he was matched with, destroying the fragile trust he had started to feel.
I felt so terrible for both of them, as each of them had really fallen for the other, but neither could let go of their fears. It isn't until they face their own demons that they can allow themselves to trust the other one. For a change it's the woman who has the biggest screwup to fix and Elise does so in a spectacular way.
I liked seeing Leo, Danni and Juliet have parts to play. Leo showed a lot of class in not saying "I told you so" to Dax. And I loved the way that Danni and Juliet showed up to give Elise moral support when she was so unhappy.