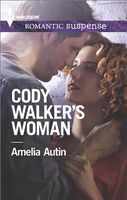 Working undercover with the last man she should trust…
Rescuing a "civilian" blew his latest undercover op -- but when Special Agent Cody Walker next met the damsel in distress, he was astonished to discover she was a fellow agent! Now they are assigned to the same task force to track down a terrorist cell that has a personal connection to Cody's past….
While Keira is grateful to Cody, she's determined to prove she can handle herself professionally. But their sizzling chemistry is making it hard to keep things quiet. And as they hunt down the would-be terrorists, they are getting closer -- and more personal -- than ever….
Very good book with excellent blend of romance and suspense. It starts with Cody rescuing a young woman from certain rape and probable murder. Even though he was undercover at the time, he felt it was more important to save her than stick to the mission. A few days later he discovers she is a fellow agent and is assigned to his task force as they look for a terrorist group. The group is a resurgence of one he had helped shut down six years earlier (see
Reilly's Return
). The events and characters from that book are frequently mentioned, but there's enough explanation that I never felt lost.
Cody is attracted to Keira from the beginning and even before he knows who she is was very impressed with the way she handled herself. Finding out that she's another agent is both good and bad. Good because now he can see her again, but bad because starting something with a coworker can be awkward. But he has it bad for her and is determined to get to know her and get close to her. He's sure that he can see the same desire in her eyes, but her resistance is frustrating. As they work together Cody continues to be impressed by her abilities. I loved seeing him accept and trust her as an agent and give her the respect she craved, and also grow to love her just as she was. That love is put to the test at the end as he has to reconcile his love and need to protect her with the respect he has for her as an agent.
Keira is just as attracted to him, but her need to prove herself professionally throws up a big barrier to her ability to follow through on it. As the youngest in her family, with four older brothers, she's grown up with the need to prove that she's as good as any man at her job. Having to be rescued by Cody makes her afraid of looking less than competent. She thinks that having a relationship with him would make people look at her differently. Her biggest fear is losing the respect of those around her. I loved seeing her try to explain the issue to Cody. The steadiness of his attitude toward her goes a long way toward opening her up to the possibilities of a relationship with Cody. His ability to love her but still allow her to be who she is makes her realize that she can have it all.
The story brings Cody back into contact with Ryan Callahan and his wife Mandy. Mandy had been a good friend to him while growing up and Cody had fallen in love with her. But Mandy had fallen for Ryan and Cody has accepted it, though she still holds a special place in his heart. There's quite an interesting relationship between Callahan and Cody and it provides some great moments of humor. Cody's previous relationship with Mandy has an effect on Keira at the beginning, but both she and Cody are able to move past it.
The suspense of the story was really good, There are glimpses of the one pulling the strings throughout the book, but his motivations aren't revealed until the end. Cody and company get bits and pieces of information, but it takes Keira's special ability of being able to put pieces of the puzzle together for them to figure it all out. As they get closer to finding out who and why, the danger becomes more intense. The final confrontation had me reading as fast as I could to see how it was going to turn out and really worried for Keira. The ending was fantastic and I loved the solution that their boss came up with so that Cody and Keira could be together.
The only issue I had with the book had nothing to do with the story, just my pet peeve with Harlequin books. Keira had spent time as a Marine and as usual, Harlequin neglects to properly capitalize it.