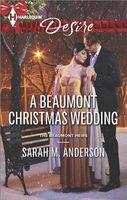 Series:
Beaumont Heirs
(Book 3)
Naughty and Nice…
Public relations whiz Matthew Beaumont won't let scandal ruin his brother's Christmas wedding. Yet scandal is Whitney Maddox's middle name. He grudgingly allows the outrageous child star turned horse trainer to stay in the wedding party…as long as she behaves herself. But soon he's the one misbehaving with this irresistible maid of honor.
Determined to shed her troubled past, Whitney traded parties -- and men -- for a quiet life years ago. But one tumble into Matthew's strong arms has her thinking a hot night with the best man might be the perfect holiday gift…a gift that could last forever.
Good book, with two people who are trying to escape their pasts. Matthew has been the cleanup man for the Beaumont family for years. When someone in the family does something that creates bad publicity it is Matthew's job to fix it. He is determined that his brother Phillip's wedding (
Tempted by a Cowboy
) will go smoothly and provide some good publicity for the family. He's not at all happy to discover that the maid of honor is a former child star with a notorious past.
I really liked both Matthew and Whitney though Matthew was something of a jerk at the beginning. Matthew has always felt like a bit of an outsider in the Beaumont family. His father hadn't married his mother until Matthew was five years old, and as one of the illegitimate kids he feels like he has to earn his place. When he first finds out that Whitney is the maid of honor he is incredibly rude to her and about her. All he can see is her past troubles and the effect it could have on his quest for perfection. Much to his dismay he is also very attracted to her.
Whitney has worked hard for the past decade to overcome her past. She now has an excellent reputation as a horse breeder and avoids the limelight. She really wants to support her friend as her maid of honor, but is very worried about what could happen when she's recognized. She's certain of it when Matthew really goes off on her. She's hurt by his reaction, especially since she was attracted to him and had hoped for a pleasant holiday flirtation. I ached for her when everybody kept expecting her to be like the old Whitney.
I loved seeing Matthew have to eat his words as he got to know the real Whitney. First he got very protective as he saw the way that she was harassed. Then he actually started to care for her, something that he never suspected would happen. Whitney also fell for Matthew, but never expected anything to come of it. She considered her past as too big a deterrent for any kind of long term relationship between them.
Both Matthew and Whitney spent a lot of time worrying about what other people thought of them. For Matthew, he never got over the feelings of inferiority he had when he was a kid, so he always worried about appearances. He almost seemed ashamed of the way he was beginning to feel about Whitney. Whitney was busy hiding from her past. It seemed that no matter how she tried, she just couldn't break free. She worried about how being around her would affect Matthew and what he wants from life. I loved seeing them finally figure out that the only people who mattered were each other.
I enjoyed these three books. I hope that there will be more books about the other Beaumonts.