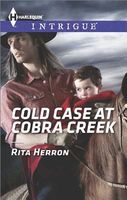 Series:
Cold Case
(Book 3)
A Native American tracker makes it his mission to bring a missing child home, just in time for Christmas…
After two years, Sage Freeport had all but given up hope of seeing her little boy again…until she met Dugan Graystone. They shared a disdain for local law enforcement, the same folks who'd hindered Sage's efforts to find her son. As an expert tracker, the broad-shouldered Native American was sure he could find the child -- even if he had to leave Texas to do it. Spending time with Sage, watching as she broke down every time a lead didn't pan out, Dugan worked harder than he ever had before. Now, with Christmas just days away, Dugan knew Sage trusted him to give her the greatest gift of all: bringing Benji home….
Good book. Sage's three year old son had been kidnapped by her fiance two years ago. She has never given up hope of finding him, even though there have been no clues as to where he might be. Her fiance's car had been found burning the day they disappeared, but no bodies had been with the car. While Dugan was searching for some missing hikers he came across some bones, not far from where the car had burned. The bones proved to belong to the fiance, but there was still no sign of Benji.
The local sheriff had never put much effort into finding out what happened to Sage's son. Even with the new evidence, he tells Sage that there's still not much of a chance of finding him. She refuses to accept that, and Dugan is right there with her. Dugan has had bad experiences with the sheriff, including losing to him when Dugan also ran for sheriff. Sage and Dugan decide to start investigating on their own and find out some disturbing things about her late fiance. As more information comes to light, they also begin receiving threats telling them to stop their search.
Both Dugan and Sage are determined people. Dugan hasn't had life easy because his Native heritage has had some people looking down on him. The more he learns about the case of Sage's missing son, the more he's certain that he can find him. He's also getting closer to Sage, attracted to her physically, but also to her unflagging certainty that her son is still alive. He'd love to contemplate a future with her, but he's certain the she's far to good for him. Meanwhile, Sage's hope for finding her son gets a boost with the new information about her fiance. She is frustrated by the lack of help from the sheriff, and when Dugan offers to help her she is grateful. As they follow the leads they find, Sage does something she never thought she'd do again - she begins to trust a man. That trust is accompanied by a physical attraction she hasn't felt since Benji disappeared. But she doesn't think anything will come of it, because she can't see Dugan being interested in a woman who is only half alive due to her misery over her missing son.
The suspense part of the story was good. I loved seeing Dugan and Sage follow their leads in spite of the interference they get from the sheriff. It's hard to see Sage's unhappiness as their leads disappear because of foul play from whoever is behind the troubles. It's pretty obvious who the main bad guy is, but everything they had to go through to solve the mystery made this a captivating read.