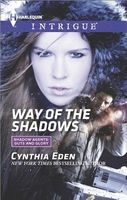 Series:
Shadow Agents: Guts and Glory
(Book 4)
Fifteen years ago, Noelle Evers was kidnapped. Two days later, her abductor was dead, leaving her with no memory of what happened. Now an FBI profiler, she uses her past trauma to get inside the minds of killers. But she can't read her new partner. EOD agent Thomas Anthony is controlled. Dangerous. And hauntingly familiar.
Thomas has been covertly watching Noelle's back. He wanted to tell her the truth, but couldn't blow his cover. Their latest mission just revealed a link to her past. With desire ramping up between them -- and a predator hunting Noelle -- it's time for Thomas to step out of the shadows. Or lose his second chance to save the woman he loves.
Fantastic conclusion to the
Guts and Glory
quartet. Noelle is an FBI profiler who is currently working for the EOD. The victim of a violent crime herself, she has found a true calling in helping catch killers. Currently she's been assigned to work with Thomas, investigating a man suspected of ordering the bombing of the EOD building (see
Evidence of Passion
).
Something about Thomas bothers her. He's one of the few people she's never been able to read. He has an amazing amount of control over his emotions. In spite of the dangerous vibes she gets from him, she always feels safe around him, something that rarely happens with anyone else. And she frequently gets the feeling she knows him from somewhere else, but she can't be sure.
Years before, Thomas had stumbled on Noelle while he was working on another mission. While he was involved in her rescue, he couldn't stick around because it would break his cover. But there was something about that seventeen year old girl that made an impression on a man with far too much violence in his life. After that he made it his business to check up on her frequently, making sure she was alright. He always stayed in the background, never making contact with her. Now that they're working together, he really wants to tell her the truth.
I loved the connection between Noelle and Thomas. They tried to fight their attraction at first because of working together, but it was just too hard to resist. Thomas had been falling for Noelle for years, ever since the day he helped rescue her, but had never realized what he was feeling. Because of all the things he's had to do over the years he feels that she could never love him. Noelle's is a survivor. She was determined that her ordeal would not keep her from having a normal life, but it has caused her to be very wary of men. Except for Thomas. And as she gets closer to him while they are working their case, he is there for her when danger threatens. When her memories start to come back she insists that Thomas tell her the whole truth. After she gets over the shock, that connection with him stays strong. I love how she overcomes his concerns about his past at the end and shines light into his darkness.
The suspense of the story was gripping. The investigation into the senator, who was suspected of being involved in the bombing, revealed an unexpected connection to Noelle's kidnapping. Now there's a killer stalking Noelle and leaving a trail of bodies behind him and he does so. Thomas and Noelle are in a race to figure out who he is and stop him before he can get to Noelle. There are several times when it could go either way and I was constantly on the edge of my seat. There were several twists and turns to keep me guessing right to the very end.