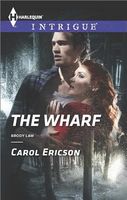 Series:
Brody Law
(Book 3)
True crime writer Kacie Manning vowed to expose the serial killer suspected of murdering her mother. And she was going to use the killer's son to do it. But Ryan Brody wasn't at all what she expected….
The sexy police chief hoped Kacie could clear his father's name, never expecting the beautiful journalist to have other motives. Then her life was threatened, and Ryan's protective instincts kicked into overdrive. Now, as his past came back to haunt him and Kacie, Ryan had no choice but to find out what really tore his family apart twenty-five years ago. It was a truth he had to face if he wanted to keep Kacie safe -- and maybe even in his life.
I started this at a disadvantage because I haven't read the first two books in the series, but I felt like I got up to speed pretty quickly. Ryan is the third son of a respected San Francisco police detective who was suspected of being a serial killer before he jumped from the Golden Gate bridge. He and his three brothers have never accepted it and are determined to prove their father innocent. Ryan was contacted by Kacie, a best selling true crime author, who wants to write his father's story. She's given him the impression she also wants to prove his innocence, when in reality she's convinced the man is guilty, and that her mother was his first victim.
The danger starts before Ryan and Kacie meet officially. She ends up locked in the hotel sauna a few hours after meeting an informant about another case she has written about, and Ryan is the one who rescues her. From that point there is an intense attraction between them that neither has much luck resisting. Ryan finds her terribly distracting, and it's sometimes amusing to see the way he loses focus when he's around her. He's determined to keep things professional because he really does want her help clearing his father's name. Kacie finds Ryan just as distracting, and is also fighting the guilt she feels for misleading him. In spite of it all, they just can't keep their hands off each other, and both start thinking of what might be possible between them - until Ryan discovers the secret she's been keeping from him. He feels betrayed and Kacie has a hard time convincing him that she really cares.
As they work together to follow the leads in the case, they start to realize that things are not adding up. People that they question end up dead or badly hurt before they can get back to them for more answers. Other people or information go missing. There are also attacks on Kacie that seem intent on keeping her from investigating any further. The more questions that they have, the more Kacie realizes that she might have been wrong all along. There's a really interesting twist at the end that reveals more information about the killer, but leaves the question of Detective Brody's suicide still unresolved.
I'm looking forward to the conclusion and will also go back and read the first two books.