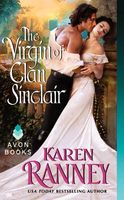 Series:
Clan Sinclair
(Book 3)
Ross Forster, the Earl of Gladsden, has spent his life creating order out of chaos. He expects discipline and calm from those around him. What he does not expect is a beautiful, thoroughly maddening stowaway in his carriage.
But when Ross discovers Ellice's secret book, he finds he can't stop thinking about what other fantasies the disarming virgin can dream up. He has the chance to learn when a compromising position forces them to wed. But can the uptight Earl survive a life with his surprising new wife? And how will the hero of Ellice's fantasies compare to the husband of her reality?
This was a very fun book to read. I really liked both Ellice and Ross. Ellice has spent the last several years pretty much under the thumb of her mother. Nothing that she does is right, and she is constantly being compared to her dead older sister. She finds it easier to just go along with what her mother wants in public, but in private it's a whole different story. Ellice has a pretty vivid imagination and has been writing a novel that is highly erotic. When her mother decides it's time to find Ellice a husband Ellice decides to run off to her friend who is a publisher and get her book published. She tries hiding in a visitor's coach, but is discovered before she can get anywhere.
Ross had stopped for a visit just to see what had been done with the house that his profligate father had started to build. He has spent the five years since his father's death trying to repair the reputation of his family. When he meets Ellice and discovers that she is the author of the scandalous manuscript he found in his coach he is horrified. He is also intrigued. He can't believe that an innocent young woman is capable of such writing, and is sure that she is writing from personal experience. Though he is determined to stay away from her, fate has other ideas.
I loved the interactions between Ellice and Ross. When she's away from her mother, Ellice has a pretty sharp tongue and doesn't seem to be afraid to use it. She frequently comes out ahead in the confrontations she has with Ross. She's also very intelligent and observant. When a storm keeps Ross from leaving immediately, they are thrown together by their efforts to help protect the local people from flooding. They discover that there is an attraction between them that occasionally gets the better of them. One of those occasions is witnessed by her mother and forces them to marry. Ross has very definite ideas on what kind of behavior he will accept, but Ellice isn't going to give up everything that's important to her just because of it. I loved the contract she came up with.
Once they're married Ross discovers that his preconceptions were all wrong and finds himself even more fascinated and captivated by his wife. Things are going well as they spend time getting to know each other. Ross finds that there is much more to Ellice than he had expected and is more and more distracted by her. This comes to a screeching halt when he fears that he is becoming more like his father and he suddenly pulls away from her. This leaves Ellice feeling that she's done something terribly wrong. I liked the way that she only put up with it for so long before standing up for herself and what she wanted. Ross also has to face his own past and decide what is more important to him, his family's reputation or Ellice. I loved his "aha" moment, and his gift to her later on.
I enjoyed the parts that the secondary characters played. I detested Ellice's mom and her attitude toward Ellice, though she had her use for the story. I was really rooting for Ellice to let her have it at some point, and loved seeing it when it happened. Ross's mother didn't have a huge part, but I enjoyed her when she appeared. I wasn't sure at the end if she was really as odd as she appeared, or if it was just a useful cover. I suspect the latter. I loved seeing the previous two couples in their current happy marriages. There was some stress between Virginia and her husband at the end, and her way of fixing it was fun to watch.