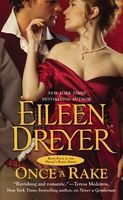 Series:
Drake's Rakes
(Book 4)
All he wants is her help . . .
Colonel Ian Ferguson may be a rake, but he's no traitor. Accused of trying to kill the Duke of Wellington, the disgraced Scotsman is now a fugitive-from the law, the army, and the cunning assassin who hunts him. Wounded and miles from his allies, Ian finds himself at the mercy of an impoverished country wife. The spirited woman is achingly beautiful . . . and hiding some dangerous secrets of her own.
All she needs is his heart . . .
She was a child nobody wanted. Now for Lady Sarah Clarke, holding on to her vanished husband's crumbling estate is her final chance to earn respectability. She knows that hiding the devastatingly handsome Ferguson will jeopardize her home. Common sense demands that she turn him in. But a single, delirious kiss shatters her resolve . . . and awakens a passion that neither of them can escape.
This continues to be a very exciting series. Ian and the rest of the Rakes are still trying to figure out who is behind the attempts on Wellington's life. This time he has been caught in the middle, and in attempting to stop an assassin has been shot and is now on the run, accused of the deed himself. He ends up at Sarah's farm, feverish and in danger of being captured.
Sarah takes him in, hides him and cares for his injuries, for the sake of his sisters. She was friends with them at school and while she disapproves of his neglect of them, for their sake she will do her best to save him. She doesn't expect the intense attraction to him, an attraction that can't go anywhere. Sarah is illegitimate and shunned by many because of it. I loved her strength of will as she cared for her land and her husband's relatives as best she can.
As Sarah cares for Ian, their attraction to each other grows. Sarah starts out mistrustful of Ian and anxious to get him healed and gone. She soon realizes that he is innocent of the charges, and begins to see the man that his sisters described. He is kind and protective, loyal and honorable, and she soon finds herself falling for him. Ian is conflicted because he is falling for her too, but he has no way of making her part of his life. There are things that conspire to keep them apart and seem impossible to overcome. I loved the way their relationship developed. Sarah wasn't a pushover by any means, and has no trouble standing up to him about what she intends to do and what she expects from him. She does admit to herself that her attraction to him can make it difficult to stay focused. I loved Ian's protectiveness and how he saw her vulnerabilities. He also discovered that she was everything he always wanted, even though he didn't know it until he met her. All he has to do is figure out a way to make it possible.
This was an intense story from the beginning. Ian's attempt to save Wellington, then his need to save himself, started the story with a rush. Then there is Sarah's need to hide Ian and nurse him back to health. Sarah is also in danger of losing her home. Her husband went off to war and hasn't returned, leaving her to fend off her cousin's attempts to claim her land. He is involved in some less savory activities himself, including participating in the continuing manhunt for Ian. Ian, once he has started to heal, knows he has to get to the other Rakes for their help in saving Wellington and clearing his own name. There are betrayals and dangers that nearly cost them their lives before they are able to resolve the immediate problem. The final confrontation kept me riveted until I was sure everyone would be safe. Then all that had to happen was for Ian to find a way for he and Sarah to be together and I thought that he did a marvelous job with that.
The secondary characters were all wonderfully done. Sarah's mother-in-law, with her overly dramatic attitudes, was both frustrating and funny, and had some scenes that had me laughing and shaking my head. There was enough information about and exposure to the cousin who was trying to take Sarah's land that I was quite happy to see what happened to him. I loved seeing her half brother have to face some consequences of his own, and loved what that ended up meaning for Sarah. I also loved seeing more of Chuffy and am looking forward to more of him. But my favorite of all the secondary characters had to be Willoughby the pig. He was wonderful.
While part of the mystery that has been present in all of the books has been resolved, it is still not over. The assassin is still at large, and there is someone very highly placed who is still pulling the strings. Ian's sisters are also missing, and someone is going to have to find them. I expect that the next book will be another nail-biter and I can't wait to read it.