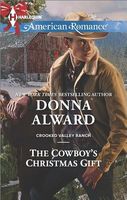 Series:
Crooked Valley Ranch
(Book 1)
A CHRISTMAS AFFAIR?
Returning to Crooked Valley is more terrifying than the battlefield to ex-soldier Duke Duggan. Still, Duke has an important reason to be back -- to take control of his late grandfather's ranch. But being thrown headfirst into his old life makes Duke feel like a fish out of water. That is, until he sees Carrie Coulter again. Twenty years may have passed but the chemistry between them is stronger than ever.
When Duke threatens to sell the ranch, Carrie, the foreman, realizes she could lose her livelihood. But no decisions will be made until after the holidays. Until then, they have time to explore the feelings that draw them to each other. Together, can they come up with a way to keep the ranch…and the burning love between them?
Very good book. Duke has come back to the ranch to decide what to do with the rest of his life. After losing his hearing in one ear because of a battlefield injury, the army is in his past. His grandfather left him one-third of the ranch, just as he did with Duke's brother and sister. They have to decide if they are going to keep or sell the ranch. Duke isn't sure if ranching is the life he wants, but he's willing to give it a chance. He doesn't expect to see Carrie, a friend from his childhood, nor does he expect the heat between them.
Carrie is surprised to see Duke back on the ranch. He had made no secret of his desire for a career in the army instead of working on his grandfather's ranch. She's had a good job as the ranch foreman, and had looked on Duke's grandfather as family. She's worried when she discovers that the terms of the will mean that the ranch could be sold and she would be out of work. She's also worried about the attraction between her and Duke, especially since he doesn't know if he's staying around.
I loved the two of them together. They have time together on the ranch, as Carrie shows him what it means to be a rancher. There's also their personal time together. Their attraction had hit them hard, and both decided to see where it would take them. Carrie isn't sure if she should pursue it, as she fears falling for him and then losing him if he decides to leave. But she also hates the idea of not having him at all. She is a very independent woman, used to taking care of herself. She isn't quite sure how to handle her changing feelings, as Duke shows her a level of caring she's never had before. Duke enjoys the closeness with Carrie, and she is constantly on his mind. He's doing his best to keep their relationship light, as a way of keeping control of his life, but he finds himself feeling more than he expected. Duke also has to come to terms with his hearing loss, another thing that he's had no control over. Carrie shows him that it's not something that has to define him or stop him from having the life he wants.
When both their lives take an unexpected turn they have to find a way to deal with it. Carrie fears that it will cause Duke to stay on the ranch out of a sense of duty, and that he will resent having the choice taken from him. She has fallen in love with him, but thinks that he doesn't feel the same about her. Duke has to find a way to show her that while duty is a part of who he is, his reasons for staying are much more personal. It takes a snowstorm and a coyote to bring them together.
I also enjoyed the family theme. Duke's grandfather's will is the catalyst to bring Duke, Lacey and Rylan back together. I loved seeing Duke begin to get a better sense of who his grandfather had been and what his dreams had been. I especially loved seeing his desire to get his whole family together for the holiday, and the effect it also had on Carrie. There seemed to be a hint also of who will be paired up with Lacey, and I have a suspicion of who will end up with Rylan. I'm looking forward to seeing if I'm right.