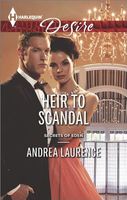 Series:
Secrets of Eden
(Book 3)
"Yes, you have a son."
The past is about to catch up with Congressman Xander Langston…in more ways than one. While his reelection campaign is in full swing, unidentified remains surface on his family's farm and scandal ensues. Yet when he returns home, it's his reunion with Rose Pierce that's consuming all his waking thoughts.
His high school sweetheart has blossomed into a radiant beauty. The thrill of first love that Xander had once dismissed is proving to be a more enduring proposition. But Rose has a secret, too -- will it put a stop to their second chance and derail his career for good?
Good reunion story and installment in the series mystery of the body found on the family property. In the first book, it was all about trying to figure out which piece of land the body was buried on and preventing its discovery. In the second book the body has been found, and now they are waiting for it to be identified. Xander's main reason for being home is to be there to help deal with the fallout when it is.
While home he looks up his old girlfriend and discovers that their connection is just a strong as ever. Their first date is interrupted by an emergency call from her brother, letting her know that her son has broken his arm. Being the nice guy that he is, Xander drives her to the hospital where he gets the shock of his life - her ten year old son looks just like him. Xander's an honorable man and he makes it clear that he isn't going to walk away, now that he knows the truth. Once he's over the shock, he's actually pretty happy about the whole thing. He's concerned about what will happen when the truth is made public, knowing what the media can be like. He and Rose decide to keep things secret for a little longer, just to be safe. I loved seeing Xander accepting his growing feelings for Rose, and looking for ways to keep her in his life. It was great to see him take her to DC for one of his events and do everything he could to make her feel comfortable. The biggest thing he worries about is what will happen when she finds out the truth about the body.
Rose is surprised to see Xander, and more so to discover that her feelings for him had never gone away. He had wanted her to go with him when he left for college all those years ago, but her mother was sick and she needed to stay. She decided not to tell him she was pregnant because she always knew that he was meant to do great things and she didn't want to hold him back. She's always felt a bit guilty about it, but has done her best to give Joey the best life she can. She nervous but also relieved when the truth finally comes out. Spending more time with Xander has her love for him growing stronger, but she worries about fitting in his world. She also has the problem of her father being in prison for being an accessory in an armed bank robbery. She's adamant about keeping him away from herself and her son, wanting nothing to do with a criminal. As expected, this does cause problems when she discovers Xander's problem. She has to decide what is more important to her.
One of the things I loved best about Xander was his devotion to his family. Like his brothers, he will do anything he has to in order to protect them. That same protectiveness extends to Rose and Joey, and I loved seeing him get so into being a dad. Joey was a great kid and it was fun to see the similarities he had with Xander. It turns out, he's a lot smarter than either of his parents suspected. I loved the present he gave Xander before he went back to Washington. Xander's return to Cornwall and his big moment with Rose and then Joey were sweet and romantic. There was a nice bit of humor as Xander had to face his mom and confess.
The tension of waiting for the body to be identified was present throughout the book. There's a little more information about what happened revealed, but obviously not everything. The cliffhanger in this one was just terrible.