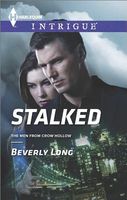 Series:
Men from Crow Hollow
(Book 2)
Bodyguard Mack McCann gave up on his quiet life in Colorado to protect a tabloid darling. Hope Minnow had been marked for death -- unless Mack had his way. He'd stick by her side to make sure she didn't stray too far, though Hope had learned long ago how to give unwanted suitors the slip. But what secrets was she trying to hide? Mack was smart enough not to believe everything the public said about Hope, but she sure didn't like being under his scrutiny. He had to take control of the situation somehow. And with an admirer watching and waiting for the perfect opportunity to give Hope the kiss of death, he had to do it soon.
Mack is a Navy guy who has left the service and is taking some time off before he starts his new job. A former commander and friend contacts him and asks if Mack will spend a couple weeks acting as bodyguard for his goddaughter. There have been some threats made against her and Bing wants someone he can trust to look out for her.
Hope is known for being a party girl, in spite of her tv evangelist father. She is sure that the threats against her are something that her father has come up with for the publicity. She'll tolerate Mack's presence if she has to, but she'll also do her best to give him the slip.
There are sparks between Hope and Mack from the beginning. Hope notices Mack's good looks and hot body, but after a disastrous marriage she has no intention of getting involved with another man. Mack definitely notices Hope's beauty, but her reputation is one that should be a turn off to him. But within a few hours of beginning his duties as bodyguard, he's seeing a whole different side of Hope than he expected. And that side of her is definitely appealing. I loved seeing her open up to Mack about the things that had changed her life and made her who she was. I loved seeing them grow closer as Mack sees the real Hope under the facade that she shows the rest of the world. I also found Mack to be pretty sweet as he takes caring for Hope to a level she never expected.
The suspense was good as Hope went from total disbelief to seeing the danger she was in. I had my suspicions about who was behind the trouble, but there were also times when things didn't add up. There were several twists and turns made it seem that the problem was solved, but then something would happen that cast doubt on whether or not it was over. The final confrontation was pretty intense and I enjoyed seeing Mack not just save Hope but also find a future just right for both of them.