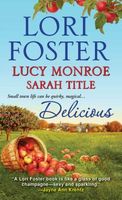 Once in a Blue Moon by Lori Foster
It's all because of that stupid blue moon. That's what Stan Tucker thinks as he walks through Delicious, Ohio, suddenly privy to everyone's innermost thoughts, a gift courtesy of a rare blue moon. What most people have on their minds is boring--grocery lists, work woes, appointments. But not Jenna Rowan's super-private thoughts. The pretty, shy bookstore owner is having decidedly hot thoughts about Stan...naked, sweaty, not-for-primetime thoughts. Stan's lusted after Jenna for ages, but he never thought the proper lady was interested. Now that he knows, he intends to do something about it, and this time, he won't be the only one howling at the moon...
Fun book. Stan has been interested in Jenna for a long time, but thought she wasn't interested. Until the day of a blue moon came and his ability to read minds was enhanced. Suddenly he could hear the very real and very hot fantasies she was having about him. This gave him the motivation he needed to pursue her and let her know just how into her he was.
I loved the fact that Stan and Jenna are older. She's turning forty, has two kids, and doesn't feel all that attractive. Stan is also older, is successful at what he does, and knows what he wants, and what he wants is Jenna. He's not interested in short term, either, he wants it all. Jenna is stunned to discover that Stan wants her as much as she wants him. She's a little freaked out by his mind reading, but she's more concerned about what effect their relationship might have on her kids. I really enjoyed the way that Stan had an answer for all her concerns, loved that her kids liked him so much, and had to laugh at her daughter's reaction to Stan's ability. It was great to see Jenna accept that it was okay for her to want something for herself too.
Moon Magnetism by Lucy Monroe
Ivy Kendall dreads the full moon. For generations, women in her family have been extremely magnetic on that day--which was fine fifty years ago but not in the age of hard drives and cell phones. That's why the hotel manager has resisted the technological improvements her boss wants her to implement. Now, the sexy, dynamic Blake Hawthorne is coming to insist on the upgrades in person. Shoot, he'll probably fire her. Being around Blake makes her body go as haywire as a full moon, maybe even more. And as long as she's going to be out of a job soon, there's no reason not to use a little of that magnetism to her advantage, luring him into an elevator where the only electricity that will work is the kind they generate themselves...
Fun story. Ivy can't be around electronics of any sort around and during a full moon, because they all quit working. As a hotel manager it's a real problem, especially when the company that owns the hotel wants to upgrade everything. She's managed to avoid it for a couple years, but now her boss is coming to oversee it.
I liked both Ivy and Blake. Ivy is a great manager for the hotel. The staff and the guests all love her. She's managed just fine without all the fancy modern gadgets. She's worried about Blake's arrival for two reasons. First, if she doesn't go along with the upgrades, she'll probably lose her job. Second, just being around him gets her hot and bothered.
Blake doesn't understand why Ivy avoids coming to the conferences and meetings that the other managers attend. He's been attracted to her since he met her, but spending any time with her has been impossible. When he arrives in Delicious he's looking forward to seeing her again, and hoping to get her to see him as more than her boss. He's thrilled when he realizes that she's just as into him.
I loved seeing Ivy tell Blake about the problem with electronics. His disbelief was logical, and seeing her work to convince him was fun. Even more fun was the developing relationship between the two. Their times together were steamy, with the realization that it was more than just physical. Blake was especially freaked by the way he was thinking about her, and it took him a little bit to accept that what he felt was right. Ivy was certain that there was no way for her to be with Blake, thanks to her problem. I loved seeing the solution that Blake came up with, showing that his love was able to overcome whatever barriers there were.
Full Moon Pie by Sarah Title
Mona runs a pop-up bakery in Delicious, Ohio. Dan has a small accounting office in town, with a nice view of the town square – where Mona parks her mobile bakery every month or so. Dan is a hardworking guy who has built his business up from nothing, and he can't stand the way Mona flits in and out of business whenever the mood strikes her. Still, he can't deny her popularity, or her clever business sense. Or her figure under those Full Moon Sweets t-shirts.
But Mona's not just capricious – there's a reason she can't run her business full time. Will straight-laced Dan be able to handle the truth? Or is he too sweet to be true?
Fun story. Mona is another resident of Delicious who is affected by the full moon. She has inherited a need to bake. Her baked goods seem to have a little something extra that makes them taste extraordinarily good. But at any other time, her baked goods don't taste so good, so she only bakes and sells on full moon days. This is an odd way to run a business, and it drives accountant Dan nuts. He's a guy who is a bit of a workaholic and has built his business into a success. As much as her business bothers him, he is still attracted to her. He fights it by trying to ignore her, which doesn't really work.
When Dan finally gives in to his need to actually be with Mona, he's stunned by the intensity of his feelings. He also has a hard time accepting the way she runs her business, and has a tendency to try to talk to her about it. Mona has also been attracted to him, but irritated by his habit of ignoring her unless he's commenting on her business. When he shows up at her truck one day and they nearly go up in flames when they kiss, she knows she has to tell him the truth about her baking.
Dan's reaction is not really unexpected, but Mona doesn't take it very well. I loved seeing him show up at Mona's house while she's baking and want to help her. I thought it was really sweet of him. Mona loved having him there as support, even if he couldn't help. So when he didn't react well to her telling him about her "curse", it did more than just hurt her feelings. She had already fallen for him and it created quite a conflict in her. She loved him, but kept denying it to herself as she was baking, and suddenly things weren't turning out. Dan had left Mona when she kicked him out after their argument, and was in terrible mood the next day, also trying to deny the way he felt. His big moment, after having the truth pointed out to him about his feelings was really sweet.