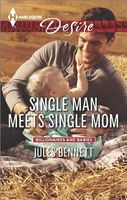 Series:
Barrington Trilogy
(Book 2)
Billionaires and Babies
(Book 49)
From player to…daddy?
Hollywood agent Ian Schaffer could have his pick of gorgeous women. So he's totally thunderstruck by the intensity of his attraction to horse trainer Cassie Barrington. The single mom, with her luscious curves and unadorned beauty, is so much hotter than the bombshells he's used to. But it's her vulnerability and passion that the jaded player finds utterly irresistible -- and that sets off alarm bells, because Ian's as commitment-shy as they come. A woman with a child is absolutely off-limits! Too bad the voluptuous mom has Ian aching to break all his old rules….
Fantastic book that starts out with a sizzle and just keeps getting better. Ian has come to Stony Ridge Farms to check in on one of the actors he's the agent for, and to try to sign the actress s her who is his costar. He just happens to be in the right place to catch Cassie as she falls from a broken ladder. Both are hit with an instant attraction, but each has a different reaction to it. Ian is immediately interested in pursuing her, with the intention of indulging in a bit of a fling while he's there. Cassie has every intention of resisting, as she's a single mom whose daughter is her whole life. But fate has them trapped together in a locked attic overnight, and the chemistry is just too hard to resist.
Morning brings rescue, but also shines some light onto the issues that both Ian and Cassie have. Ian is confronted with the fact that Cassie has a child, something that he avoids at all costs. He initially thinks that Cassie is like his mother, palming her child off on others so that she can do what she wants. He quickly learns the truth, but the damage is done and he has to decide if he's willing to try to fix things. Cassie has her own baggage to deal with. Her husband walked out on her shortly after the baby was born, after cheating on her and blaming her for it. She also feels less than attractive, as she still has some "baby weight" she hasn't been able to get rid of. To top it all off, Ian is five years younger than she is. She's sure that there's no way he'd actually be interested in her.
I have to say that I loved Ian. He's good looking, successful, has a sense of humor and underneath the Hollywood reputation he's actually a pretty nice guy. One of my favorite things about him was that he liked Cassie just as she was. He preferred her curves to the stick thin Hollywood types and he had no trouble showing her so, over and over. I also loved seeing him with little Emily. Once he got over the shock and admitted to himself that there was more to what he and Cassie had than sex, he really got into the whole baby gig. It was adorable to see him really enjoying the little moments. He was falling and falling hard, when Cassie's ex showed up and started to make trouble. My heart just broke as he tried to do what he thought was right for Cassie and Emily.
One of the best things about Cassie was that she felt so real. She's a single mom dealing with the same things that moms everywhere deal with. She has the body issues from being pregnant. She deals with the exhaustion of being the only parent, even though she has the support of her family. But through it all she is giving Emily all the love and care she has to give. I loved seeing those sweet moments, like taking Emily for her first ride, and the quiet rocking of putting her to sleep, balanced out by the other side such as the screaming teething times. I loved the strength she showed in doing what she had to do. When Ian came into her life, she wasn't quite sure what to do with him. The attraction she felt was unlike anything she had felt for her ex, but she wasn't going to allow herself to fall for another charmer. That night in the attic she allowed herself to be someone she'd never been before, and while she certainly enjoyed it, it also scared her. Ian's actions the next morning hurt her, but she couldn't help but accept his apology later. When he continued to pay attention to her, and made her feel special in a way she never had, her heart started to get involved. But when it became clear that Emily was becoming just as important to him, her heart became his. Her ex's reappearance created a huge problem, but Cassie dealt with it beautifully. The ending was fantastic.
I also enjoyed seeing couples from previous books. Cassie's sister Tessa plays a pretty good part in helping Cassie and Ian along, as well as being a great example to Cassie. Max is there because of the movie and his wife makes a brief appearance, as do Bronson and Anthony and their families. All of them are examples to Ian that it is possible to have a family life and a Hollywood career.