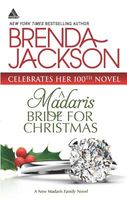 Series:
Madaris Family
(Book 19)
One by one, Madaris men have surrendered to the matchmaking schemes of Felicia Laverne Madaris, matriarch of the family. But Lee Madaris isn't letting anyone else control his destiny. He'll bring a bride of his own choosing to the family's holiday gathering -- if his hotel's gorgeous new chef will agree to a marriage of convenience.
It's not just the chance to work at the Strip's hottest hotel that brought Carly Briggs to Vegas. Witnessing a crime in Miami may have made her a mob target. Though she's reluctant to complicate their working relationship, Lee's tempting offer is so hard to resist. And soon, desire is clouding their no-strings arrangement.
The danger that made Carly flee Miami is about to land at their door. So Carly and Lee must decide who to trust, when to let go -- and whether a love they never anticipated is strong enough to pass the ultimate test.
This was the first Madaris book that I read, but it won't be the last. I've been hooked on Ms. Jackson's Westmoreland series for a long time and this was even better because it was longer and more involved. It also included some of the Westmorelands in the story, which was really great. Lee is the owner of two big hotels, one in Dubai and one in Vegas, with plans for a third in Paris. He has been very busy so he hasn't made time for any women in his life. His great-grandmother has been very busy in the last few years working to get all her great-grands married off, and Lee is up next on her hit list. When he hears that she has someone lined up for him to meet over Christmas he's determined to thwart her plans. He comes up with the idea to marry for convenience and show up with his own bride.
Carly moved to Las Vegas from Miami for a better job and to get away from the place where she heard a murder take place. She loves her job as a pastry chef, and if she's a little lonely at times she feels it is best for her. She's been let down by relationships enough that she's no longer interested in putting herself out there. Her mother has ignored her all her life, feeling that Carly was a mistake that she needs to get away from. Her mother's husband has threatened her to keep her from "contaminating" his family. And the man she thought she loved cheated on her and accused her of being passionless. When her birthday comes around she treats herself to a night at the hotel and dinner out. While dancing alone on one of the terraces she is joined by Lee who dances with her (a scene right out of Disney's Sleeping Beauty). They exchange first names, a smoking hot kiss, and part never expecting to see each other again.
Fast forward a few days, days when neither has been able to forget the other. Imagine their surprise when they come face to face in one of the dining rooms, where Lee's guests have asked to meet the pastry chef who made the dessert they just devoured. Now that he's seen her again, Lee desperately wants to get to know her better and take that kiss to its logical conclusion. He doesn't understand why he's so obsessed over her, but he wants to pursue it. Then he comes up with the idea of asking her to marry him, in a marriage based on respect, friendship and passion, rather than love which he doesn't want. Carly has been just as obsessed with him, but she doesn't see anything coming of it. She is an employee of his hotel, and far below him socially. She also considers herself a loner because she avoids relationships. The treatment she's received from others has done a number on her self esteem and she can't believe that Lee would be interested in her for more than a very short term affair.
I loved seeing Lee so determined to win Carly to his point of view. Except for one bad decision at the very beginning, he treated her like a princess. I loved seeing all the things he did for her to make her feel special. There was a really terrific part where Lee stood up to her stepfather in a really wonderful way, something no one had ever done for her before. I also enjoyed seeing him fight the idea that what he felt was love, even as he admitted that what he felt was unlike anything he'd felt before. Carly didn't know what to make of Lee and what he was doing to her. She had never been made to feel so beautiful and so wanted by anyone. She, too, was resistant to the idea of love as it had never done anything for her before. She was tempted by Lee's proposition, but worried that eventually the passion would die and she'd be rejected again. Each thing he did broke through a little bit more of her walls, until she was head over heels for him. I loved seeing them both realize that what they had together was more than just passion. When they showed up for the family Christmas, Lee was all cocky abut having outwitted his great-grandmother - for about five minutes. Loved that scene!
There's a bit of suspense in the story, as the FBI comes to Lee and his partner, asking for their help in taking down a mob intent on using Lee's casino for their own purposes. Things get really intense when Carly realizes that one of those mobsters is the man she overheard back in Miami. She's in grave danger at one point, and her rescue was pulled off by some of the characters from previous books. There were a couple funny spots that helped relieve some of the tension.