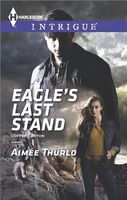 Series:
Copper Canyon
(Book 6)
Danger is his destiny…
When his homecoming is rocked by an explosion, former FBI agent Rick Cloud puts R & R on hold. His undercover instincts warn him he's the target; his Navajo gifts tell him the reason is well hidden…deep in the walls of Copper Canyon. And only local beauty Kim Nelson can lead him to it. He saved her life in the explosion, now she must help him save his.
Is love his legacy?
Concealed in the canyon is a message from his medicine-man foster father that only Rick can decipher. But someone will kill to keep it there. Trapped in the line of fire, the lawman loner knows only one thing: he must protect Kim from danger…and himself from giving in to desire.
Excellent conclusion to the Copper Canyon series. This one is about Rick, the brother we've only heard about, as he has been away doing undercover work for the FBI. He's back home now, after he was injured on duty, leaving him with a scar that makes continuing undercover work impossible. When his homecoming party is interrupted by an explosion, he suspects that he was the target and is determined to find out who and why. Kim is the niece of the building's owner and the one who helped him get everyone to safety.
I really liked both Kim and Rick. Kim has been working two jobs to put herself through school, after which she plans to become a police officer. She remembers Rick from when they were in school and she had a crush on him. As they work together she finds herself attracted to the man he has become. I liked the way that she saw past the scar on his face and focused on the inner man. She also sees how he holds back, never opening himself completely to people other than his family. I loved her involvement with the investigation, and how she and Rick work so well together. As they get deeper into their search, Kim gets to know him better, and understand some of his fears. Her feelings for him got stronger and she worked to show him that together they were stronger than by themselves.
He has spent so much time undercover that he has lost sight of who he really is. He is drawn to Kim from the beginning, and they team up to investigate who is after Rick. He is impressed with Kim's abilities and coolness under stress. He is attracted to her, but feels that he would be a bad match for her. Rick doesn't believe that love is an emotion that lasts, and prefers to base relationships on friendship and respect. But there is something different about Kim, and the way she treats him gives him a different outlook. I loved his protectiveness toward her, and the ways that he showed it. His realization that he loved her was a slower one, not a blinding flash after being in danger, but it was just as moving.
I really liked that we finally got the answers to what happened to his foster father. There had been questions from the very first book in the series. All of the brothers had suspected that there was more to his disappearance than was believed by most people. It was pretty clear who was behind his death as the investigation went on, but the how and the why were longer in coming. I really enjoyed the additional information on the Navajo practices that came out during the story. The final confrontation was well done, though not as intense as in some of the earlier books. I loved seeing all the brothers come together at the end and get the closure that they needed.