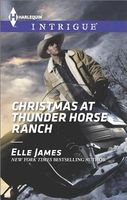 Series:
Thunder Horse
(Book 4)
A holiday rescue at Thunder Horse ranch
En route to investigate an illegal crossing, Border Patrol agent Dante Thunder Horse's helicopter goes down in a fiery blaze. He makes it out of the wreckage -- just barely -- and tackles his assailant to the ground. Paleontologist Emma Jennings is no killer -- but she's now in the crosshairs of one. Sworn to protect the woman who saved him, Dante needs to find out who shot him down and why.
When Emma accompanies Dante back to his Badlands ranch, where a vengeful enemy threatens his family and their proud heritage, she's in even more danger…of falling for the brave Lakota pilot. But can there be a future with a man haunted by the past?
Action filled story with enough romance to satisfy also. It started with a bang as Dante's Border Patrol helicopter is shot down by an unknown assailant. He makes it out of the chopper, but is still being shot at. When someone gets close, Dante takes them down thinking it's his attacker, but instead it's Emma. She had witnessed the attack and came to Dante's rescue, but now she's in danger too. After they are attacked again, Dante decides their best bet for safety is to head for the family ranch.
Emma and Dante were great. Emma is a college professor, and feels that she is rather socially awkward. She's always been more comfortable with books than people. She had met Dante several months earlier and had coffee with him. She was attracted to him, but he never contacted her again. She discovers that the attraction has not gone away. Emma is very independent and has learned over the years to depend only on herself. But with the attacks she has to depend on Dante to help keep her safe. Being on the ranch with Dante and being welcomed by his family is like a dream come true for her. She feels guilty about the deception, especially as she begins to care for the family. Even more than the family, Emma has fallen in love with Dante, but fears that he can never love her the way he loved Samantha.
Dante is a man who is sill recovering from the loss of the woman he loved. They had both been in the army in Afghanistan and she was killed by an IED. He hasn't been able to move on from his grief and doesn't plan to fall in love again. When Emma rescues him and comes under attack herself, his protective instincts kick in. He is determined to keep her safe. He doesn't expect to find himself attracted to her. In order to make her presence on the ranch seem logical, he tells his family that they are engaged. As the next few days go on, he doesn't expect that having her as his fiancee would feel so right. When he nearly loses her, Dante realizes that he is able to love again.
The mystery in this book was very good. From the moment of the attack on Dante the action was nonstop. Not only was Dante under attack, but so was the rest of the family. The other brothers had also been victims. I loved the support that they gave each other as they tried to figure out who was behind it. All four brothers are protective of their women and their mother, and it was fun to see them deal with the ladies' refusal to be sent to safety. The person behind the attacks did not become clear to me until close to the end, shortly before he was revealed to the rest. The final confrontation was very intense.