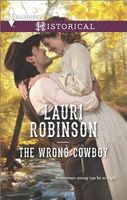 One mail-order bride in need of rescue!
All the rigorous training in the world could not have prepared nursemaid Marie Hall for trailing the wilds of Dakota with six orphans. Especially when her ingenious plan -- to pose as the mail-order bride of the children's next of kin -- leads Marie to the wrong cowboy!
Proud and stubborn, Stafford Burleson is everything Marie's been taught to avoid. But with her fate and that of the children in his capable hands, Marie soon feels there's something incredibly right about this rugged rancher and his brooding charm….
Fun story of a city girl, a lonely cowboy and the six kids that brought them together. Marie is an orphan who is making her way in the world as a nursemaid. When the parents of the six children in her care are killed she takes it upon herself to take the children to their next of kin rather than allow them to be put in an orphanage. To accomplish this she pretends to be the man's mail order bride, embarking for Dakota before she hears back from him.
When she arrives at her destination she is dismayed to learn that the children's cousin is away and not expected back for months. She is met by Mick's partner, Stafford, who doesn't really know what to do with them. He doesn't quite believe her story, but he can't desert them. Stafford left his home in Mississippi when the girl he loved married his older brother, determined to make a success of his life. He has succeeded in that, having a successful ranch and business, and a large home of his own.
Marie and Stafford strike sparks off each other from the moment they meet. She thinks he's overbearing and grumpy, and he thinks she's haughty and clueless. Pretty soon he comes to admire her determination to do everything she can to make sure the kids are well cared for. He also starts thinking about her in ways that aren't right considering she's promised to his best friend and partner. Marie soon learns that Stafford is a man that can be counted on and is relieved to know that will be there for the children. She's not so relieved to be wishing that Stafford was the children's cousin instead of the missing Mick.
I loved Marie. She was fierce when it came to doing what she thought was right for the children, even standing up to Stafford. She began as a young woman who was confident in her ability to care for the children, but pretty clueless when it came to anything else. She had never learned to cook or sew and had no idea what life was like in the west. But she was determined, and she faced every challenge like a warrior going into battle. From the woodstove and filth of Mick's cabin to her need to learn to cook, she wasn't going to let anything get in her way, though some of the situations she got into were pretty amusing. Along the way she discovered that Stafford was actually a kind and honorable man, one that she could easily love.
Stafford was a terrific hero. Though gruff and distrustful at the beginning, he wasn't about to let any real harm come to Marie and the children. Her attitude irritated him, making him treat her a little more harshly than he would have normally, but her feistiness also amused him. He felt guilty about his actions that first week, and when the cabin burned it gave him an excuse to do what he should have done at the beginning. Having Marie and the children in the house with him showed him what he had been missing, and he began to picture what it would be like to have Marie there permanently. I also loved seeing how wonderful he was with all the kids. He was just the sort of father figure that they needed in their lives.
Things got a little rough when a local woman tried to take the kids away from Marie and Stafford. By this time Marie had changed considerably and I loved seeing her take Verna on. Stafford was there for support, but he was confident in Marie. This event made Stafford realize just what his feelings were for Marie, but Mick's arrival caused him to step back. Now Marie has to decide what will be best for herself and the kids. It was pretty easy to see what was going to happen, but seeing the process, especially from Marie's point of view was terrific.
I enjoyed the parts the children played. Each of them had their own personalities, and weren't too good to be true. I loved seeing how the oldest two boys became Stafford's shadows and how good it made him feel.