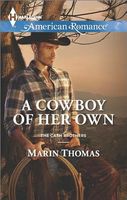 Series:
Cash Brothers
(Book 6)
He wasn't looking for love
Fun-loving Arizona rodeo cowboy Porter Cash has always been more interested in having a good time than a steady paycheck. But to realize his dream of owning his own ranch, Porter needs this new job delivering roughstock to rodeos. What he doesn't need is a too-serious, too-smart and too-sexy-for-her-own-good copilot on the trip.
When savvy insurance adjuster Wendy Chin joins Porter for the haul, she is all work and no play. But soon, business turns to pleasure and Wendy is conflicted. Her heart wants Porter, but her strict Chinese-American parents will never support the match. Can Porter find a way to prove to Wendy that, when it comes to love, he's not fooling around?
Fantastic conclusion to the Cash Brothers series. I'm sad to see it end, but so happy to see all six brothers find their true loves. Porter is the last Cash brother left unmarried. He's always been the one least likely to settle down. He likes the ladies and has been known to move from job to job as he gets tired of them. But he's been dissatisfied with life lately. He sees how happy his brothers are and is a bit envious. He's got a dream of his own to have his own ranch to raise bucking horses for rodeos. To do that, he needs a steady job to earn the money for the land he has his eye on. He's gotten a job transporting rodeo animals, but wonders if that job is in jeopardy when insurance adjuster Wendy Chin joins him on his latest trip.
Wendy is a hardworking woman whose life is centered on her work and her family. She's been raised by strict, traditional Chinese parents but she longs for a life with a little more fun in it. She's aware of Porter's reputation, since she's been friends with his sister for a long time. When he dares her to let loose and have a little fun she can't resist the challenge. She doesn't expect the attraction that comes along with the fun. She's not happy about it because there's no way it can go anywhere. She knows that there's no way her parents would ever accept him. The more time they spend together, the deeper her feelings grow for him.
I loved seeing Porter and Wendy together. They are a terrific balance for each other, though both have some issues they have to overcome. Porter feels somewhat self-conscious around Wendy because he never went to college and doesn't exactly have a successful career going on. He also has some trust issues, stemming from a relationship a few years earlier, when the woman had used him to make another man jealous. He has the occasional worry that Wendy is using him for her job. But his feelings for her overpower most of his doubts. I loved seeing him introduce her to darts and karaoke. I really liked the way that he was determined to prove himself to her parents and show them that he was worthy of Wendy. I got really frustrated with his brothers and sister when they were ragging on him about his many jobs and women without noticing that he had changed.
I really felt bad for Wendy with the situation she was in. She's a modern American woman with a great job, who is smart and pretty and longs for a chance to have a normal life. But she was raised to respect her parents, their values and traditions. After a disastrous relationship in college, she doesn't trust her own judgment so has been going along with her parents' choices for her dates. The problem is that none of those nice, successful Chinese men have done a thing for her, Porter is the one her heart has chosen. She really wants to respect her parents' wishes, but the idea of giving up her happiness to do so is breaking her heart. I was really rooting for her to stand up to them.
I enjoyed the secondary story of the investigation into why Porter's boss had had several of his bulls disappear while being transported. It added a little bit of suspense and action to the story. There was also an interesting twist involving the identity of Porter's father that made a great addition to the book.
The ending was sweet and funny as Wendy's parents were treated to a parade of people pleading Porter's case. I loved Wendy's reaction and what she did afterward. The epilogue was a very satisfying wrap up.