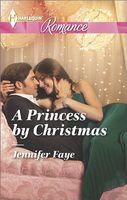 A royal kiss under the mistletoe
Prince Alexandro Castanovo arrives in snowy New York intent on protecting his royal family from scandal. And when Reese Harding -- down-to-earth and heart-stoppingly beautiful -- finds room for him at her inn, it seems like the perfect twist of fate.
Not long ago Reese's world came crumbling down, shaking her foundations. But this enigmatic stranger intrigues her! She's learned to be wary of secrets…but when she discovers Alex's true identity, might there be enough magic in the air to make this regular American girl a princess by Christmas…?
Very sweet fairy tale type of romance. Reese is struggling to make ends meet at her inn. Several years earlier she'd had to leave school, giving up her dreams of becoming an artist, when her father died. His death brought secrets to light that devastated her mother and made it difficult for Reese to trust another man.
Alex shows up at the inn one night, expecting to be able to stay in the room he had reserved. Unfortunately, there had been a mix-up and there were no rooms available. In order not to lose his deposit, Reese put him up in her room until one became available for him. Alex is in New York to try to head off a scandal involving his older brother and an ill-advised marriage. He is attracted to Reese and finds her infinitely fascinating, but knows there is no chance of a relationship between them. Alex has spent most of his adult life paying very close attention to his duty to his family and country and ignoring anything that would be strictly for himself. He also refuses to allow himself to fall in love, having seen his father's devastation after his mother's death. Alex comes up with the idea of asking Reese to pretend to be his girlfriend in order to draw the paparazzis' attention. He doesn't expect to start to have feelings for her.
Reese liked Alex before she found out who he was. He was attractive, nice and fun to be with. She wasn't so happy when she found out his secret, as she'd had enough experience with deception thanks to her father. When Alex begged for her help in order to protect his brother and his home, she couldn't say no. She knew that there was no chance that their deception could become real, but her heart was harder to convince. When he took her home to his Mediterranean island she was entranced by it. The things they did together as part of the deception were a lot of fun, and she found herself falling deeper for him. Just when she thought there might be a chance for them, things fell apart and she fled for home.
I loved the way that the author used How the Grinch Stole Christmas to show Alex the price of devoting himself solely to duty. He had to learn about the importance of love, and when he did, he did it very well. I loved his "go big" moment, and the epilogue was very sweet.