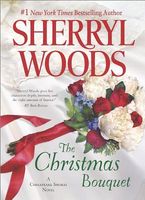 Series:
Chesapeake Shores
(Book 11)
For the very driven medical student Caitlyn Winters, catching the bridal bouquet at a Christmas wedding has set off a chain reaction that she's sure is more curse than blessing. Not only has she fallen in love with family medicine resident Noah McIlroy, but an unexpected pregnancy threatens her well-laid plans for the future. It doesn't help that Noah--with a whole lot of help from her O'Brien relatives--is completely on board with the prospect of marriage and happily-ever-after.
It takes a whole lot of patience, love and family persuasion to help Caitlyn realize that she can still have everything she ever wanted, including a home in her beloved Chesapeake Shores and a man who understands all of her dreams.
Very good book. Caitlyn is the twin who knows exactly what she wants and when she wants it. Shortly after catching the bridal bouquet at a family wedding she met and fell in love with Noah, a medical resident at the hospital where she's studying. Her studies are going well and her relationship with Noah is great - until she discovers she's pregnant. She is stunned and none too happy about the crimp it puts in her plans. Noah is just as stunned, but he doesn't mind at all. He wants to marry Caitlyn and have that happily-ever-after he pictures.
I liked Caitlyn. She's independent and determined and has her eyes set firmly on her goal of being able to help the people in an African village she's been to before. She's also very much in love with Noah, who shares many of her ideals. But when she discovers she's pregnant she's terrified that she will have to give up her dreams. As much as she loves him, having Noah immediately propose marriage just adds to her fears. When her family gets involved, the pressure just increases.
Noah loves Caitlyn. He is surprised by the pregnancy, but happy about it. He has no trouble picturing himself as a father. His plans for after his residency are to find a rural area in need of a doctor and set up a practice. After he finds out about the baby he knows some things will have to change, but he's pretty flexible. He's able to make some adaptations to those dreams that allow him to fulfill his desire to help while still remaining close. He is dismayed by Caitlyn's refusal of his proposal, but understands her fears. He has the patience to wait for Caitlyn to work through them.
I have to say that I loved Noah. He is supportive of her and her goals. He steps right up when she gets pregnant and is looking forward to being a father. He doesn't quite understand her reservations about telling her family until he meets them. I loved that first meeting and how well he did with the family. It helped that he wants to marry Caitlyn. I really enjoyed seeing him try to reign in Mick, the patriarch of the family, and the one most notorious for interfering. Noah really wants her to marry him before the baby comes, but he knows her well enough to know that she can't be pushed. He gets into trouble a couple times, but recovers well. I loved the gift he had for her at the end.
Caitlyn was having a hard time and she really didn't have to. She was so focused on how the baby was going to impact her plans that she nearly missed out on having it all. I understood her fears about having to give up her dreams, but she wasn't looking at the possibilities. It didn't help that she kept getting pressured by her family, especially her grandfather. I liked the fact that she never doubted Noah's love for her. I got a bit frustrated with her when she was avoiding home like it was the source of all her problems. It took awhile, and some advice from her mother and her mentor, before she finally started to look at the big picture. I loved her arrival at Noah's and how they worked things out. I loved the epilogue.