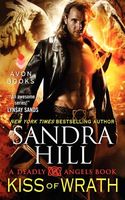 Series:
Deadly Angels
(Book 4)
No wicked wenches or wild rampages . . . it's been centuries since Mordr the Berserker was turned into a vangel -- a Viking vampire angel -- as punishment for his sin of wrath, and he's been frustrated ever since.
It's not so bad being stuck in modern-day Las Vegas. What better place to slay Lucipires, or demon vampires, than the original Sin City? But then Mordr Sigurdsson's mission is expanded to a new assignment: protect lust-worthy Miranda Hart.
Miranda's well-ordered life turned into chaos when she unexpectedly inherited her late cousin's five children. Now, her cousin's dangerous husband is about to be paroled, and she needs a miracle to keep them all safe.
That miracle arrives on her doorstep in the form of a very buff, handsome man with a very strange name. Mordr wants nothing to do with a red-haired wench or children. Miranda wants nothing to do with a gorgeous hunk who claims to be a Viking.
As Miranda and Mordr give in to temptation, they must decide if they fit in each other's worlds -- before their enemies close in on them..
Another fun vangel book from Sandra Hill. Unlike the others, who find time for some fun among their duties, Mordr has been pretty grim in the centuries since becoming a vangel. His sin of wrath came from what happened to his family while he was away from home, and his reaction when he discovered it. He has never forgotten the sight of his murdered children and his grief has never gone away.
Miranda was a successful psychologist with a simple life when she suddenly became the guardian of her cousin's five children. Since then her life has been chaotic, but she wouldn't change it now for any reason. When she hears that her cousin's abusive husband is due to get out of prison, she is worried for their safety. She doesn't expect a miracle in the form of a handsome, sexy man who claims to be there to protect them, but doesn't seem very happy about it,
Mordr has spent the centuries avoiding anything to do with children. Just the sight of a child reminds him of all he has lost. Now he's stuck caring for five of them and their prickly red-haired aunt. His attempts to maintain a distance from them don't last even a day as the kids begin to worm their way past his defenses.
I loved Mordr. I felt for him with the tragedy of his past and completely understood his attempts to avoid anything that would remind him of his pain. He didn't stand a chance against these kids. Each of them has their own unique personality, and each of them goes to work on an aspect of Mordr's misery. I loved seeing him interact with the kids, first simply trying to control the chaos and then being unable to keep from caring for them. I especially loved seeing him with little Linda and how sweet he could be with her. Mordr also had to deal with his reaction to Miranda. His emotions had been pretty well encased in ice since the deaths of his family, but he found himself reacting to Miranda in a way he had never done before, I loved seeing him try to convince himself he didn't even like her, but that didn't last long. His attraction to her was strong and resistance was futile, even though it is forbidden for a vangel to get involved with a human. The heat between Mordr and Miranda was intense. The scenes between went from steamy to funny to heartbreaking as they dealt with the reality that a future between them was impossible.
Miranda was great too. She had started out happy with her single life, never wanting a husband or children. But she couldn't say no to caring for her cousin's kids and now can't imagine her life without them. She needs serious help when her housekeeper/sitter quits and she discovers the kids'father is due to be released from prison. Her first encounter with Mordr is pretty funny as she first feels she has to protect them from this dangerous looking stranger, and then has to fight the sudden attraction she feels for him. Once she accepts his presence it was fun to see her reactions to his strange speech and attitudes. She finds herself falling for him, even after he tells her who and what he is. The feelings just get stronger even though she knows there's no future for them. When he is removed from the mission at the end, her heartbreak and that of the children is intense. I loved what she and the kids did, and archangel Michael's reaction is priceless. The ending was great.
The concurrent story of the vangels' battle against Satan and his Lucipires in Las Vegas was very good. It didn't seem to be as big a part of the story as in previous books, but there was enough there to keep it going. I liked seeing Zeb, the double agent from the previous book, and am keeping my fingers crossed that he stays safe. I'd like to see him get his own story.
I loved seeing Mordr's brothers as they come to help him both with the kids and with the Vegas mission. The teasing among them was fun, and I enjoyed the way they gave Miranda more insight into Mordr and why he is the way he is. I'm looking forward to seeing the other brothers and how they meet their fates.