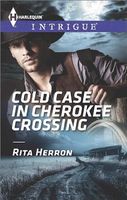 Series:
Cold Case
(Book 4)
A decades-old cold case is testing everything one Texas Ranger thought he knew about obtaining justice…
A lot of men on death row profess their innocence. Those men are mostly just scared of dying. Jaxon Ward understands that, but as a Texas Ranger he needs to uphold the law. Yet the story Avery Tierney tells him… He's convinced her brother is awaiting execution while the real killer remains at large.
Searching for the murderer opens old wounds for Avery, and now she has to face a past so traumatic she blocked it out. A past not so dissimilar to Jax's. Before long, the only comfort they find is in each other's arms. Avery's lost everything once before. And now, if she loses Jaxon, she fears she'll never recover.
Good story of a man on death row for murder and the efforts made by his sister to find the truth. A week before he's scheduled to die, Avery visited her brother in prison and discovered that he had confessed to killing their foster father because he thought she had done it. Jaxon has been assigned to the case to make sure nothing comes up that will stop it. When he hears her story and talks to her brother he suspects that she may be right.
Avery had suffered terrible abuse by her foster father. Her brother had tried to protect her, but was regularly beaten and tied up. The night of the murder she had come out of a blackout to see her brother holding a knife and stabbing the man. Her statement had helped send Hank to prison, but now she wants to help set him free. As she and Jaxon begin asking questions, Avery begins receiving threats, warning her to give up her quest.
Jaxon had also spent time in foster care and knew that bad things happen all too often. He is amazed by Avery's strength and determination. Though he had been told by his boss to make sure the execution went on as scheduled, his own honor as a Ranger wouldn't allow him to ignore the possibility that the wrong person had been convicted. The more people he questions, the more obvious it becomes that the authorities had taken the easy way out. Jaxon becomes more determined to uncover the truth.
There were many layers to the mystery here, and multiple people with motive to kill Wade. I loved following each step and trying to figure out where it was leading. Some of the stories that were uncovered were heartbreaking. As the day of execution got closer, the intensity of the search increased. There was a surprise appearance by someone who claimed knowledge of the murder. When the final confrontation came, I was surprised by who had actually done it, and even more surprised by who had covered it up.
The romance between Jaxon and Avery was pretty quick. There was an immediate attraction between them, but they did try to resist at first. Jaxon felt it was inappropriate to get involved with Avery while he was investigating, but he found it very hard to resist. I loved his protectiveness toward her from the very beginning. He was horrified by the things that had happened to her and so sweet with her when she was having nightmares and flashbacks. Avery had her own issues obviously, because of the abuse she had suffered. Besides her problems having any kind of relationships, she had serious trust issues with men. From the very start she trusted Jaxon, which enabled her to allow herself to feel more. There was a brief break in that trust, but reason overcame it, and they were able to look forward together. I especially loved seeing what Jaxon did for Avery's brother and father.