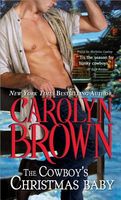 Series:
Cowboys and Brides
(Book 2)
'Tis the season for...
A pistol-totin' woman who's no angel
A tough rancher who doesn't believe in miracles
Love that warms the coldest nights
After a year in Kuwait, Lucas Allen can't wait to get back to his ranch for Christmas and meet his gorgeous Internet pal in person.
When he pulls in, there's Natalie Clark right in his front yard with a pink pistol in her hand and a dead coyote at her feet.
Lucas is unfazed. But wait...is that a BABY in her arms?
Fun book full of sassy romance and quirky characters. Lucas has arrived home from his deployment a couple days early, ready to surprise his family. He's also looking forward to meeting the girl he got to know over the internet in person, when she arrives in a few days. But there are a lot more surprises than he expected when he arrives to find the family gone, and Natalie already there. She's standing there with a pistol in her hand, a dead coyote at her feet, and a baby in her arms, just as stunned to see him.
Lucas was introduced to Natalie, via Skype, by his tentmate, who was also Natalie's best friend. When Drew was killed by an IED, Lucas was the one who told her and became her friend also. He's spent the last few months building up dreams and hopes that come crashing down when he sees her with the baby. He's angry that she didn't tell him before, hurt that there must be someone she cares for more, and jealous of the baby.
Natalie is stunned to see Lucas show up early. She and the family had big plans for his homecoming and now it's all ruined. She knows she should have told him about the baby, but she hadn't been able to figure out how. She wants to explain, but he won't listen. Now he's just making her mad with his reaction. She's ready to walk away from the ranch and Lucas, but the family housekeeper/cook has been hurt and has made Natalie promise to stay and look after them until she's better.
I loved Natalie. She's a strong, sassy woman who has no trouble standing up for herself. She doesn't take Lucas's attitude for long, and soon pushes back. I like the way she owns up to her mistakes, then moves on and expects him to also. She'd spent most of the last months getting to know Lucas online and falling for what she saw. Lucas in person is even better, and her attraction to him is sizzling.
Lucas was fantastic. I felt for him, with the shock he received when he got home. He's still dealing with the loss of his friend and had been looking forward to holding Natalie. It isn't surprising that he loses his cool for awhile. Once he cools off and he and Natalie have a chance to talk, his true nature begins to reassert itself. He is really quite a gentleman and a romantic too.
The development of their relationship was quite well done. They already knew each other pretty well, but there are some things that have to be experienced in person. Though they start out ticked off at each other, it doesn't take too long for them to move forward. I loved seeing them together, from their cooperation with the ranch work to caring for the baby to acting on their attraction. Both of them were cautious about confessing their feelings, worried that the other didn't feel the same way. I really enjoyed Lucas's efforts for Christmas and how he tried to plan each little detail. The ending is really sweet with them finally having the courage to reach for their dreams.
There is also a great theme of family running throughout the book. Both Natalie and Lucas are close to their families. Though she spends a fair amount of time avoiding her own family, Natalie thinks of them quite often. I enjoyed the conversations she had with her mother, and how Natalie tried to keep control of her own life. Lucas's family was a lot of fun. The three older men were really sweet with the way they took to baby Josh. I loved seeing them fuss over who got to hold him or take care of him. It was also fun to see them try their hands at matchmaking. Lucas has dreams of having his own family, but fears it will never happen, thanks to an ex-girlfriend. There's a great twist at the end that is the direct result of her actions, but it helps bring Lucas and Natalie together.
There are quite a few laugh out loud moments in the book. Natalie's refusal to be intimidated by Lucas's ex was very fun to read. There were several funny scenes involving animals and their determination to get in the house and the havoc they created. I also enjoyed Hazel the housekeeper's long distance interference, and her arrival back home once she's healed. The interactions among characters were fun and moving and just plain terrific reading.