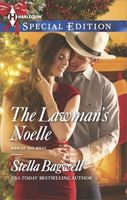 Series:
Men of the West
(Book 31)
The things you find under the mistletoe!
While running her own ranch, Noelle Barnes had encountered all sorts of surprises. But an unconscious cowboy? That was a first! Yet Evan Calhoun was no ordinary rancher. He was a lawman on the hunt for some rustlers. And with her tragic past, there was no way Noelle was going to trust herself to the long arms of the law…
From the moment he looked into her velvety brown eyes, Evan knew Noelle had secrets. Torn between admiring her independence and wanting to take care of her, Evan hadn't realized just what a hard task lassoing this cowgirl would be! Would a holiday proposal bring him all he really wanted for Christmas?
Good book. Noelle is the owner of a small ranch, which she runs completely on her own. While checking her fences one day she came across Evan Calhoun, injured and unconscious. After reviving him, she's not too happy to discover that he's a detective with the local sheriff's department, but she can't just leave him. So she gets him the help he needs, delivers him to his home, and doesn't expect to see him again.
I liked Noelle. She is fiercely independent and determined to live her life on her own terms. Her parents have money, but were very self-absorbed people, and hadn't spent much time with Noelle and her brother Andy. As she got older she went along with her parents' wishes, including marrying a man they favored. After she discovered he had only married her for her money and as a stepping stone in her father's company, she divorced him. Around the same time her younger brother was killed, shot by mistake by a policeman. Heartbroken, she moved to the land left to her by her aunt and uncle. Her meeting with Evan disturbed her on a couple levels. First, she was attracted to him, feelings that she hadn't had since her divorce five years earlier. Second, he was a lawman, the type of person she had resented and avoided since her brother's death. He also comes from money, another type she has avoided because of her family experiences. Though she doesn't expect to see him again, she can't help but be happy when he comes to see her. Though her head tells her to stay away from him, her heart isn't listening. Over the next few weeks, Evan comes to see her more and more often, helping out on her ranch, and including her in things with his family. She starts to see a different side of him, and by extension all lawmen, and her feelings for him start to deepen. But she still sees a gulf between them, one that she doesn't see narrowing.
Evan is one of the Calhoun brothers, one that is somewhat out of step with his family. He has never been overly interested in the ranch, his dream has always been law enforcement. One of the cases he is working on involves cattle rustlers, and that's what he was working on when he was rescued by Noelle. He had been thrown by his horse, and if not for her he could have been in very bad shape. He had been drawn to her from the very beginning, even though she's nothing like the women he usually dates. He has been keeping his relationships very light ever since the end of his engagement. He had been burned by her, when it turned out she was more interested in his family wealth that in himself. Now he's extra cautious. I liked the way that Noelle's independence impressed him, even though it also worried him that she was so isolated. I liked seeing him pull her into his life and show her a bit of fun. Evan was nervous about the strength of the feelings he was beginning to have for her. He is thinking more about a permanent relationship with her, but can't see how that can happen with her refusing to leave her land, and him unwilling to be far from his own family.
Both Noelle and Evan are pretty stubborn about their own needs. I have to admit that I was more sympathetic to Noelle than I was to Evan, because of her background. Both of them had some serious thinking to do about what they really wanted for the rest of their lives. I loved seeing how they finally realized that nothing was more important than being together. The epilogue was a nice wrap up for the book. I'm looking forward to reading stories for Finn and Brodie.