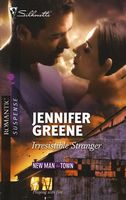 Series:
New Man in Town
(Book 3)
Rumors, like fire, can burn...
Twenty years ago, Lily Campbell's parents died in a mysterious fire. Now she's back for the truth…but nobody in her sleepy hometown wants to talk about that night. And when the fires start up again, it's clear that somebody doesn't want her to stay.
Griff Branchard has perfected his bad-boy persona. But the moment he sees Lily, nothing matters as much as getting close to her. Although rumors about her are flying around town, he just can't believe such a sweet woman could be a troublemaker…But trouble? She's deep in it. And he's going to make sure that the only heat she feels is from the flames of desire.
Good suspense and a sweet romance. Lily has come back to Pecan Valley to get some questions about her parents' deaths answered. Her father was accused of setting the fire that killed them because he was depressed over losing his job. She and her sisters were then separated and adopted by families in different states. The three of them have agreed that that doesn't sound like their father at all and Lily is determined to get to the truth.
When she gets to town one of the first people she meets is Griff, owner of the local ice cream parlor. Griff has the reputation of being something of a bad boy, never committing and being rather lazy. She understands what they see, but she sees something else when she looks at him. She sees a man playing a part while he cares intensely about the things that matter to him. He looks like he's lazing about his ice cream parlor, dabbling in experimenting with flavors, but she sees the way he's given the kids in town a safe place to hang out. She's especially impressed with the interest he has taken in some of the kids who are victims of abuse.
Griff sees a pretty young woman who is looking for answers to the mystery of her parents' death. He's drawn to her like he's never been drawn to anyone else. Since she's arrived in town there have been several fires set and the people in town are looking at her like she's the one doing it. He knows she isn't, after all, she's been with him during much of her time there. But he's afraid that she could be in danger from whoever is responsible. I loved seeing the way he was determined to take care of her, even though she kept trying to resist. He was surprised by how well she seemed to understand him, which made him a little bit nervous, too. The more time they spent together, the more he could see having her with him all the time. It was sweet to see how he cared for her each time she had to deal with another fire being set. I loved seeing him realize the depth of his feelings when he nearly lost her. The epilogue was funny and sweet as he dealt with her sisters.
The suspense was really well done. It was obvious that someone was feeling really nervous about Lily and the questions she was asking. I loved seeing each step of her journey and how the information kept building. Each fire that was set had a link to the questions she had, and each one made the townspeople suspicious of her. The fires also seemed to be escalating, which made Griff even more worried that something bad would happen to her. As more information came to light I began to have a suspicion of who the firebug was, but the reasoning still eluded me. When the final confrontation came I really wondered how it was going to be resolved. I thought it was well done and the after effects were pretty realistic.
The only problem I had was that nothing was really said about Griff's background. It's obvious that he has money but I finished the book with no idea where it had come from. I would have liked to learn more about what made him who he was.