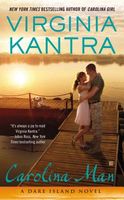 Series:
Dare Island
(Book 3)
Meet the Fletchers of Dare Island
Steady Matt, the son who stayed
Ambitious Meg, the daughter who never looked back
And warrior Luke, the Marine who never expected to return.
A heartwarming new novel in New York Times bestselling author Virginia Kantra's beloved series about family ties, second chances, and the power of love...
Marine Luke Fletcher is determined to do his duty -- first to his country and now to his ten-year-old daughter, the unexpected legacy of a high school girlfriend. But his homecoming to Dare Island in North Carolina's Outer Banks challenges his plans for the future and forces him to face everything that's missing in his life. He wasn't prepared to lose his heart to this child he never knew. Or to fall hard for coolly reserved small town lawyer Kate Dolan.
Former military brat Kate knows Marines can make lousy fathers...and she's got the scars to prove it. Giving her heart to a man who's bent on leaving seems one sure way to have it broken.
Now, no matter what it takes, Luke must prove to Kate and to his daughter that Semper Fi is more than a motto -- and to himself that there's more than one way to be a hero.
This was my first book by Virginia Kantra, but it won't be my last. Luke is a Marine, serving in Afghanistan when he finds out that he is the father of a ten year old girl. His high school girlfriend never told him she was pregnant when she broke up with him. She has recently passed away and left him with custody of their daughter. He immediately takes emergency leave and goes home to settle things.
I loved Luke. He is an honorable man, intent on doing his duty to his country and Corps, fully planning to put in his twenty years. Finding out he's the father of a ten year old girl has thrown him into emotional turmoil, but he's determined to do the right thing. He heads home on emergency leave in order to meet Taylor and get her settled with his family while he finishes his deployment. He has no idea how to relate to her, but is determined to try. He has emailed and Skyped with her while he finished his tour but still feels awkward around her once he returns. His ex's parents challenge him for custody, and the family lawyer who is handling his ex's estate steps in to help him navigate the hurdles. Besides being grateful for her help, he is intensely attracted to her.
Kate is a family lawyer who deals mostly with helping women and children in difficult situations. She is cautious at first when Luke arrives to take custody of Taylor. Her own experiences with a military father have made her doubtful that Luke would be a good one, but he soon proves her wrong. Kate is also independent and avoids emotional entanglements as a way of protecting herself. Seeing Luke's attempts to connect with Taylor softens her heart toward him. Kate is also fighting an intense attraction to him, and losing the battle. She's reluctant to give her heart to a man who will be leaving again soon. I really felt bad for her because she had such a hard time believing that Luke would really want her for anything long term. Her childhood with her alcoholic and abusive father and submissive mother left her feeling unlovable. She doesn't know what to make of Luke's persistence and his family's easy acceptance of her into their circle. She's afraid of getting attached and then losing it all.
I really liked the way that Luke admitted to his growing feelings for Kate and pursued her accordingly. He was determined, but he was also sensitive to her fears. I loved the way that he would know when to back off and give her space, and when to press forward. But things didn't always go smoothly for him as he wasn't always the most articulate of men. He nearly screwed things up completely at the end, but his recovery was really sweet and awkward. I figured out what he was going to do before the end, but I enjoyed hearing the details of it as he told Kate.
Taylor is adorable. She is realistically portrayed, especially with her fears about fitting in with a new family. It was just her and her mom for so long that she is unsure how to deal with having so much family now. She was really nervous about whether her dad would like her and want to keep her around, so she was very cautious around him. I loved the way she began to trust him and start to behave more like a normal ten year old. Her scenes with the puppy and the cat were sweet and emotional. I could also see that she was holding back on a problem and the clues that were given made me really ache for her. When it all came out I loved seeing how she was finally able to fully trust Luke and Kate.
I also enjoyed the rest of the Fletcher family. I loved his parents and the bits of their history that got worked into the story. I especially enjoyed his mom's comments on being a Marine wife with a deploying husband, because she really nailed what it is like. I also loved the way they had all taken Taylor into the family. Her conversations with her teenage cousin Josh, with their
Princess Bride
references, were fun. I also loved how he was there for her when her mom's family came to visit. I had to laugh at the conversation between Josh and Luke after Josh's girlfriend went home. The support and love they all had for each other was wonderful. Their motto of
back to back to back
was perfect for them. I will definitely have to read the first two books in the series, as well as the next one.