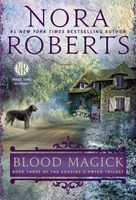 Series:
Cousins O'Dwyer Trilogy
(Book 3)
County Mayo is rich in the traditions of Ireland, legends that Branna O'Dwyer fully embraces in her life and in her work as the proprietor of The Dark Witch shop, which carries soaps, lotions, and candles for tourists, made with Branna's special touch.
Branna's strength and selflessness hold together a close circle of friends and family -- along with their horses and hawks and her beloved hound. But there's a single missing link in the chain of her life: love...
She had it once -- for a moment -- with Finbar Burke, but a shared future is forbidden by history and blood. Which is why Fin has spent his life traveling the world to fill the abyss left in him by Branna, focusing on work rather than passion.
Branna and Fin's relationship offers them both comfort and torment. And though they succumb to the heat between them, there can be no promises for tomorrow. A storm of shadows threatens everything that their circle holds dear. It will be Fin's power, loyalty, and heart that will make all the difference in an age-old battle between the bonds that hold their friends together and the evil that has haunted their families for centuries.
Fantastic conclusion to the trilogy. Branna is the leader of her family and friends, the one who watches out for them and who wants to protect them. She and Fin have known each other and loved each other most of their lives, but are kept apart by their family histories. They discovered as teens that Fin is a descendant of Cabhan, the evil one who has been stalking her family for generations, and was cursed by her ancestor. Branna and Fin have moved from adversaries to friends to partners in the fight of their lives. They have never denied their love for each other but have had to find a way to deal with never being able to have the future together that they once had dreamed of. Though they can't see a future together, they finally succumb to their passion by vowing to take things just one day at a time.
In the previous two books
Dark Witch
and
Shadow Spell
the group has been trying to end the centuries long battle and destroy Cabhan for good. Though they have gotten close, he still lives and torments them all. They have to figure out what has been missing from their attempts before they can try again. There are the three cousins - Branna, Connor and Iona; those who love them - Fin, Meara and Boyle; and also the original three, children of Sorcha, the first Dark Witch - Brannaugh, Eamon and Teague.
Throughout the book the original three make visits to their modern counterparts, sharing information that may help in the quest. Branna realizes that they must find a way to involve those three in the final battle if they are to succeed. As the circle gets closer to finding their answers, Cabhan makes more frequent forays, trying to drive wedges between them. Each visit only makes the group stronger and more determined. There is one interesting twist that changes the balance of the circle and strengthens it further. A second twist is personal to Fin and changes the way he looks at himself.
The buildup to the final confrontation is slow, with much attention paid to each step taken. The intensity increases as the time nears and they wonder if they have everything they need. The final battle involved each one, but Fin's part was the scariest and most intense. It was spectacular and its effects on Fin would change his life.
There were several things I loved about the series. First and foremost I loved the importance of family and friendship. No matter what was going on, they were always there for each other. Each member of the circle found the right person to spend their life with, a bonding that only made them stronger. I loved the magickal aspects of the story, not just when it came to fighting Cabhan, but also the everyday uses. I felt like it added another layer to each of the characters. Lastly, I loved the location of the series. I have visited Cong in Ireland and being able to picture the land and places as I read made me feel as though I was there.