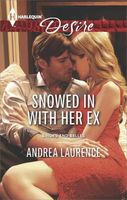 Series:
Brides and Belles
(Book 1)
Trapped in a cabin with the man who makes her want what she shouldn't have…
Wedding photographer Briana Harper never expected to run into her ex at an engagement shoot! And when a blizzard strands them…alone…in a remote mountain cabin, she knows she's in trouble. She's never forgotten Ian Lawson, but none of the reasons they broke up have changed. He's still a workaholic. And now he's an engaged workaholic!
But Ian is also still a man who knows what he wants. And what he wants is Briana. Untangling the lies of his current engagement leaves him free to…indulge. Yet proving he's changed may be this music mogul's toughest negotiation yet…
Excellent reunion story. Briana is a wedding photographer and not exactly happy to find that her latest assignment is engagement photos for her ex and his new fiancee. Seeing him again for the first time in nine years shows her that the attraction is still there. Getting snowed in with him is the last thing she needs. Ian is surprised to see Bree, and also disturbed by her presence. He thought he'd gotten over her long ago, but he's discovering just the opposite.
The history that Ian and Bree shared exposed issues that neither had yet gotten past. Bree had left Ian because he became like her father, work obsessed to the point where he would forget dates, events, and anything outside of his work. Ian had been happy as a musician until his adviser told him he wasn't good enough to make a career of it. This brought back his feelings of insecurity, caused by the rejection he felt over his father's desertion of their family. He was desperate to do well at the record label job he got, and devoted everything to it, expecting Bree to understand. When she left, it was more rejection in his eyes.
Their forced time together at the cabin enables them to clear the air somewhat, and the end of his engagement, opens up possibilities for the future. First they have to be able to overcome those problems that tore them apart to start with.
I loved their time together at the cabin. Bree did pretty well coping with being snowed in, but Ian was a bit of a basket case at first. I loved their comments to each other about their individual technological lives. The Monopoly game was fun - I loved their "money". I really liked seeing Bree get Ian to play his guitar again. I felt bad for Ian when his engagement ended, not because it ended, but why. I was impressed with his willingness to do the right thing, and sorry for him when it backfired. It did free him up so that they could pursue their attraction and see where it might lead.
Once they return to Nashville, Bree is still wary of Ian's ability to change, but is willing to give him a chance. Things are looking up when they attend one of Ian's friend's parties, in spite of an encounter with his ex-fiancee. But things go downhill fast when a late visit by the ex at work delays Ian from making an appearance at Bree's show. She's hurt and furious and both of them say things that they later regret. I felt bad for Ian because he really had tried and Bree wouldn't even let him explain. I felt like she should have at least done that much, but considering she expected him to fail I guess I shouldn't be surprised. I loved seeing Ian's housekeeper fuss over and at him, and the motivation it gave him to go after Bree. His go big moment was sweet and romantic, and so nerve wracking for him!