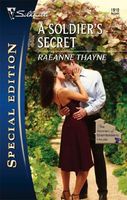 Series:
Women of Brambleberry House
(Book 3)
MAN ON A MISSION
To find out who was claiming ownership of the only place he'd ever called home, Harry Maxwell knew he'd have to practice a little deception. So the wounded lieutenant changed his name a little. Altered a few facts. All for a good cause--get in, get the truth, get out.
Until he met the Brambleberry House heir presumptive. Anna Galvez was captivating in ways he hadn't even known existed. Still, after spending time with her, he wanted the house more than ever.
But only if she was in it....
Very emotional book. Max has come to Brambleberry House for two reasons. First, to make sure that the women who inherited it did so honestly. He was worried that they had taken advantage of his sweet great-aunt. Second, he is recovering from injuries received when his helicopter was shot down in Iraq, and the peace of the Oregon Coast is just what he needs. He arrived at the house under an assumed name so that he could get at the truth with no one the wiser.
Anna needs the income from Max's rental of the top floor apartment. The house is old and seems to be in constant need for repair or maintenance and there is never enough money to do it all. Her first impression of Max is that he's aloof and kind of cold, but she's still attracted to him. She's sworn off men for awhile because she doesn't trust her judgment any longer. She has a failed engagement in her past, then the last man she got involved with was caught embezzling money from her business. She feels it's safer just to stay away from them. But there's something about Max that makes her want to trust him and lean on him.
It took me a couple chapters to warm up to Max. He seemed to be far too cynical to be Abigail's nephew. It soon became apparent that his problem was due mostly to his experiences with his selfish mother and the guilt that he felt for not spending more time with his aunt. He was mostly convinced of Anna's innocence within a couple days, though he would occasionally still have moments of doubt. He was also dealing with the disappointment that his aunt hadn't left the house to him. His times with her were the only bright spots in a miserable childhood and now he feels that perhaps he failed to measure up in some way. As he gets to know Anna he starts to feel guilty about his deception, but can't figure out how to tell her the truth without hurting her.
I loved the relationship that grew between Anna and Max. Anna senses Max's need to be loved. I loved seeing her give him the kind of care and support that he used to get from Abigail. Meanwhile, Max sees the vulnerable woman under the tough exterior that she shows to the rest of the world. He wants to protect her from all the things that are bringing her down. When the truth about who he is comes out, Anna is heartbroken, and convinced that he hadn't cared for her at all.
I really enjoyed the part that the dog Conan played. Throughout the book he seems almost human as it looks like he is trying to help move their relationship along. There is also the feeling that Abigail isn't far away and that she has a hand in the things that are happening between Anna and Max. I loved the ending with the letter that Max has gotten from his aunt and the effect it has on him.