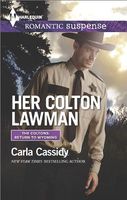 Series:
Coltons: Return to Wyoming
(Book 2)
Catch up with the crime-fighting Coltons
Witnessing a murder plunges Nina Owens into nerve-shattering danger. Police chief Flint Colton is sure the perp is taking down witnesses, so the handsome cop orders Nina into protective custody...in his home And while she's grateful to him, Nina just can't shake her deep distrust of police. But all that falls away when Flint's scintillating kiss awakens something deep within her.
As Thanksgiving approaches with Dead River quarantined, the search for a missing child puts Nina and the killer on a collision course. She knows Flint is haunted by a past failure to save a witness...and that he'll put himself in the line of fire before he ever lets her down.
Loved this book. The action and suspense were nonstop right from the beginning and the relationship between Flint and Nina was great. As the book starts, Dead River is still under quarantine, the murderer is still on the loose, and the man who stole a priceless heirloom ring is also still missing. Flint has his hands full trying to keep peace in the town while searching for the fugitives. The only mental breaks he gets are when he stops at the diner for a meal and can indulge himself by being near Nina, who he's been attracted to since he came back to Dead River.
Nina and her diner are among the most popular in town. She's always cheerful, has a kind word for everyone, and looks out for her employees. She's also a very private person about her past. She's attracted to Flint, but because of issues in her past, won't allow herself to fall for a man in law enforcement. But when she witnesses a brutal murder, and her house is burned down as a warning, she has to accept Flint's protection.
Forced into each other's company, Flint and Nina really get to know each other over the next several weeks. I loved watching Nina's distrust start to dissolve as she learned more about Flint. Because of her experience seeing the dysfunctional relationship between her parents, she has resolved that she will never marry and have a family of her own, but her attraction to Flint is hard to resist. Staying with him gives her a taste of what could be, but she's still afraid to trust completely. I really liked seeing her doubts put to rest by a comment from a little boy. I also liked seeing her relationships with her friends. She is such a warm and loving person that I was really rooting for her and Flint to make a go of it. I loved her excitement over her Thanksgiving plans. The aftermath showed just how much other people loved her.
Having Nina live with him was a dream come true for Flint. His attraction to her has been a big part of him for a year, and this is his chance to get to know her. He also knows that he has to be extra vigilant, and not allow himself to be distracted. Before he came home to Dead River he had lost a witness he had been assigned to protect, and that failure haunts him. As he overcomes her initial coolness, Flint begins to dream of what it would be like to have Nina in his life permanently. I loved seeing how determined he was to take care of her, not just protect her. He was very attuned to her moods, and it was sweet to see him try to cheer her up on those rare occasions she was down. He was so ready to settle down with her, but overcoming her fears was going to be a real challenge.
The suspense of the story had me riveted throughout. Nina's witnessing of the murder and loss of her house to arson, started things out with a rush. Seeing Flint and his men working so hard to find him, and running into so many obstacles, had me wondering if they would ever catch a break. The hijacking of the school bus and confrontation with the murderer was intense, but had an unexpected twist to it. The issue of the virus is ongoing, and the stress is getting to everyone. The realism of people's actions and reactions was awesome, and made me feel as though this could really happen. I'm looking forward to the next book and seeing how it all turns out.