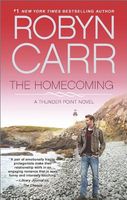 Series:
Thunder Point
(Book 6)
At the age of nineteen, Seth Sileski had everything. A superb athlete and scholar, handsome and popular, he was the pride of Thunder Point. Destined for greatness, he lost it all in a terrible accident that put an end to his professional football career when it had barely begun. The people in his hometown have never forgotten what might have been.
Seth has come to terms with the turns his life has taken. But now he's been presented with an opportunity to return home and show his father -- and the people of Thunder Point -- he's become a better, humbler version of his former self.
Winning over his father isn't the only challenge. Seth must also find a way to convince his childhood neighbor and best friend, Iris McKinley, to forgive him for breaking her heart. With his homecoming, will Seth be able to convince the town, his family and especially Iris that he's finally ready to be the man who will make them all proud?
Excellent story of redemption and second chances. Seth and Iris had been best friends all their lives, up until their senior year in high school. They played and teased and talked, sharing all aspects of their lives. By the time they were in high school, Seth was the popular football star, while Iris was the shy nerd with the huge crush on him. They were still friends, though it was hard on her when he came to her with his girl problems. Then one night he got drunk after breaking up with his girlfriend and Iris came to his rescue before his parents could see him like that. He was lost in an alcohol haze when he put the moves on her, with things progressing as they usually do. He also promised to take her to the prom, a promise that was forgotten along with all the other events of that night. He broke her heart when he made up with his girlfriend the next day, and never understood why she was so furious with him and ending their friendship.
His football career sent him to the pros, but a terrible car accident ended that career very early on. He then decided to go into police work and has become the new deputy in charge of the Thunder Point office. This gives him the chance to come home and try to repair his reputation with the town, his father, and especially Iris. He has never forgotten her, and really wants a chance to make things right with her.
Iris became a school guidance counselor and came home to work at the local high school. She is great with the kids, especially since she still remembers what things were like when she was in school. Iris has never forgotten what Seth did. Having him move back to Thunder Point brings back the hurt every time she sees him. She tells him flat out that she doesn't want to see him or talk to him, and is frustrated when he ignores her wishes. She finally blows her top at him and lets him know exactly what happened all those years ago. He's horrified, and determined to make things up to her. Iris just wants him to leave her alone because she's discovered the old feelings are still there. She doesn't want to risk falling deeper for him and having him walk away again.
I loved Seth's determination. He has finally realized that Iris was the one for him all along, but he has to convince her of that. He starts out by trying to repair their friendship, somewhat awkwardly but very sweet. There are some pretty funny moments as he tries to show her how he's changed. I especially loved the sweetness he showed when she was sick and he was taking care of her. He slowly works his way back into her life, but then has to figure out a way to move beyond friendship. That scene ended up being one of the funniest in the book.
I got a little frustrated with Iris because she would not let the past go. She has spent seventeen years thinking about what happened and being mad at him. She knows she is being stupid about it, but doesn't seem to be able to stop herself. As their friendship is slowly rebuilt she falls the rest of the way in love with him and is afraid of what will happen to her when he walks away again. I liked the way that she finally worked up the courage to lay her feelings out for him and what happened when she did.
One of my favorite things about the book was the transformation of Seth from the cocky kid to the kind and caring man that he is now. He was obviously very happy in his new profession and it showed in everything he did. There weren't too many events showing him at his work, but the ones that were there were fantastic. The first one, where he broke up the fight between the two men showed Iris as nothing else could just what the new Seth was made of. Another facet of the new Seth was his friendship with Oscar and what it said about his sense of responsibility. Seth was also determined to repair his relationship with his father, and that seemed to be the most difficult task of all. Even that event had its moments of laughter.
I loved the romance between Seth and Iris. Though it had it rocky start, because they had been friends for so long it really didn't take long for it to develop. Being with Seth gave Iris the sense of family she hadn't had since her mother's death. Seth had family, but Iris gave him back his feelings of being part of something special. I really loved the way that they could talk to each other about anything and just be there for each other when they'd had a bad day. I loved seeing Iris get involved in trying to help Seth with his father.
There was a secondary storyline that had Iris dealing with a case of suspected abuse of one of her high schoolers. She was really worried about this young lady and the best way to handle the case while keeping her safe. She agonized over it, especially when she discovered the abuser was not who she expected it to be. There were some very tense moments as the situation was dealt with and the final confrontation was really scary.