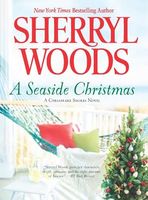 Series:
Chesapeake Shores
(Book 10)
As the only child of a single mom, Jenny Collins wanted nothing more than to be part of a large, rambunctious family like the O'Briens. Ironically, though, when her mother married into that family, Jenny found herself feeling more like an outsider than ever.
Now, after years in Nashville as an established songwriter, Jenny's drawn back to Chesapeake Shores to collaborate on a Christmas production…and to make peace with the past. As if that's not challenging enough, Caleb Green, the singer who broke her heart, has followed her to town, determined to win her back.
With the help of a little O'Brien holiday magic, will Jenny and Caleb find a way to make sweet music forever?
Good story of second chances. Jenny is still trying to get over her breakup with Caleb. She had been deeply in love with him when he was caught cheating on her. Her humiliation was complete with the horrible photos printed in all the tabloids. She feels a need to get out of Nashville and when she has an opportunity to go home to Chesapeake Shores, she takes it.
Going home isn't as easy as it sounds. Ever since her mom married Thomas O'Brien she's felt like an outsider. She had been used to it being just her and her mother, and she hadn't been happy with the idea of sharing her mother with him. When her mom got pregnant, she really felt like she didn't belong anymore. She has avoided going home as much as possible for years now, and things with the family just keep getting more awkward. Her uncle's wife Bree is putting on a Christmas play and wants Jenny to write the music for it. This gives Jenny a reason to go home, but can she mend fences with her family?
Caleb knows he screwed up when he cheated on Jenny in a drunken haze. The fallout from that convinced him that he needed help. He lost Jenny and he wrecked his career. So he checked into rehab and made a start at putting his life back together. One thing that he is that he needs Jenny back in his life. He finds an excuse to follow her to Chesapeake Shores and there hopes to show her that they really do belong together. He's fighting an uphill battle though. Jenny wants nothing to do with him, and her family has made it clear that they are watching him very closely.
Jenny has never stopped loving Caleb, even though he broke her heart. She's not happy that he has showed up in Chesapeake Shores. What's worse, Bree has offered him a spot in her play, feeling that Jenny's music and Caleb's voice will take it to a whole new level. Jenny also suspects that Bree is indulging in the family habit of meddling and matchmaking. Having Caleb constantly there is putting a strain on her attempts to protect her heart from being broken again. She wants him, but she's afraid to trust him.
Caleb is determined to win Jenny back. Being in rehab gave him the opportunity to reassess his life and see where he wants it to go. He wants Jenny to be part of that life. When he arrives in Chesapeake Shores he's pretty nervous about dealing with her family, and isn't surprised that he doesn't exactly get a warm welcome. He is surprised when Bree asks him to appear in her show, and talks Jenny into working with him. He quickly realizes that this is probably his only chance to win Jenny back. He lets her know that he still loves her, but he's careful about not pushing too hard. He knows he has a long way to go.
I loved seeing Caleb's attempts to win Jenny back. He knows her very well, so he can see that she still loves him, but that she's afraid to trust him. He starts out slowly, with agreeing to work with her on the music for the play, and reminding her of the way they had been friends before they were lovers. He knows of her problem with her mother and helps her to see what she needs to do. I loved his sensitivity to those feelings, and his way of helping her with the Christmas decorating was really sweet. I loved the way that he didn't try to make excuses for his mistakes, but owned up to them and tried to be better. I enjoyed seeing him deal with her family, from the ladies who were willing to help him, to the men who were a bit harder to win over. The thing I liked the most was that Caleb never gave up showing Jenny just how much he loved her.
Jenny was a little harder for me to like. While I understood her initial reaction to her mother's marriage, I thought she held on to those feelings for too long. It really made her seem kind of childish. I really didn't like the way that she couldn't even make herself be nice to her little brother. It took Caleb to get her to ease into a relationship with little Sean. I even would have understood her feelings if the O'Briens had treated her like an outsider, but they didn't. Every one of them treated her as part of the family even before her mom married Thomas, so I just didn't get it. I was happy to see her finally start to act like an adult and apologize for being a brat. When it came to her and Caleb, I completely understood her feelings. She had been so devastated that she didn't want to risk her heart again. But it didn't take long for her to realize that she still loved him, she just had to decide if she was ready to do something about it. His understanding of her feelings about the Christmas decorations and his finding of the Christmas train broke down the last walls, but she was still reluctant to go that final step. There was one last obstacle to overcome, but Caleb's big moment was so sweet and moving.
I really enjoyed seeing the various members of the O'Briens and their parts in getting Caleb and Jenny back together. It was great to see their support of Jenny and how that support also included their trademark meddling.