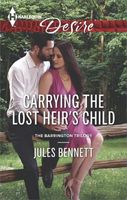 Series:
Barrington Trilogy
(Book 3)
"I'm pregnant."
Two words that will rock one man's world forever.
On location for a film about a horse-racing dynasty, Lily Beaumont is drawn into a sizzling affair with sexy stablehand Nash James. Now she has to trust him with the truth about their baby.
Even though the undercover millionaire is on a mission against his hated rival, he won't walk away from Lily or their unborn child. It will mean coming clean about his true identity--and the decades-old secret that brought him to Virginia horse country. But will the truth cost him the woman and family he now craves?
I thought this was the most emotional one of the three books in the series. When Nash first appeared in
Single Man Meets Single Mom
, I suspected he was going to play a big part in the series. I wasn't even surprised at his relationship with the family, as secret babies aren't unusual. But there was so much more than that to who Nash was and what he was looking for.
Nash and Lily have been indulging themselves in a steamy affair. The movie she's filming is due to end soon, and that is when they planned to end their affair. Nash expected that Lily would be long gone before he was ready to reveal his identity to Damon Barrington. Lily's news brings a whole new level of complications to his plans.
Nash and Damon had been business rivals for a couple years before Nash found out about his relationship with him. His plan had originally been to learn what Damon's plans for the future are, figure out how to acquire some of Damon's horses for his own breeding program, then leave. Once he learned of their connection, he also wanted to see what Damon was like on a personal level. Though he loved his mother, he had always felt the lack of family in his life, and he found himself envying the relationship between Damon and his daughters.
Nash had not expected Lily to become such an important part of his life. With the news of her pregnancy, he knew he wanted to stay involved with her. He wasn't going to walk away from their child or from Lily. I loved when he told her "I think you're everything I didn't know I was looking for, and more than I deserve." I loved seeing how determined he was to take care of her. His deception was eating him up, but he was having a hard time getting up the courage to confess, fearing what her reaction would be. His fears were well founded, and the pain he went through as he tried to win her back was intense. This part had me going through several tissues. I liked that he owned up to his mistakes and didn't try to weasel out of the consequences.
Lily had started the affair with Nash knowing that it would end. She hadn't planned to fall in love with him, and a baby definitely wasn't in her plan either. Her biggest fears right now are that the media would somehow find out. At the beginning of her career she had fallen for a man who had lied to her and embroiled her in a media firestorm. She dreads the idea of it happening again and is afraid of what would happen to her relationship with Nash. She's happy that he's not upset about the baby, but she can't figure out how they can make a continued relationship work. She's surprised by his take charge attitude regarding her well being and fights it a bit. She's an independent woman who is used to being in control of her life, but soon finds leaning on Nash a little isn't so bad.
With the pregnancy comes a desire to know more about Nash. She realizes that neither of them has done much talking when they're together. It doesn't take her long to realize that he's hiding something from her and that starts to work on her fears. When he confesses his parentage, she's upset that he hadn't told her before, but they move on pretty quickly. It's not long before she gets the feeling that there is something more, and that confession devastates her. She had had bad experiences with her stepfather, another rich man, and to find out that Nash shared some of those same characteristics broke her heart. She wasn't sure she could ever trust him again, even though she couldn't stop loving him. I liked the way that she cared enough to give him a chance to show her how he had changed. The epilogue was great, with an unexpected twist at the wedding.