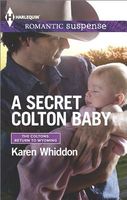 Series:
Coltons: Return to Wyoming
(Book 1)
A new additon to Wyoming's most scandalous family
Is Theo Colton the father of a baby dropped at his doorstep by a dying socialite? Even more shocked than the sexy bronc-riding champ is his beautiful cook, Ellie Parker. Just as she becomes the baby's nanny, she discovers a terrifying stalker has followed her to Dead River.
What's worse -- as a mysterious virus quarantines the town, danger goes viral, too. But to Theo and Ellie, the biggest dangers are their sizzling attraction and profound new feelings. Can Ellie tame the cowboy who wants nothing more than a wild ride with women? Or must she deny her heart to save his life?
Overall, a good book, though I had a couple of minor issues with it. Theo Colton came home to Wyoming after a career ending injury during a rodeo. He's trying to decide what to do with the rest of his life, when a woman from his past shows up. She has an infant daughter that she claims is his, then collapses and dies of an unknown virus.
Ellie fled her home in Boulder, Colorado, trying to escape from a stalker. She was in Dead River when her car died, but was lucky enough to get hired as Theo's ranch cook. She was there when baby Amelia arrived and stepped in to act as the baby's nanny. Later that night she was terrified to discover that her stalker has followed her.
Theo had always been a footloose guy. His rodeo career allowed him to avoid the idea of settling down, and there were always plenty of women to enjoy. He always made sure they knew he doesn't commit to anyone. When his rodeo injuries made it impossible to not only continue as a bronc rider but to ride at all, Theo is left wondering what to do. He's never considered anything else. Being confronted with fatherhood has him reeling for a second time. It takes him a little while to accept the truth, but he is slowly won over to being a daddy. I really loved seeing his transformation. Having Ellie's help is what makes it all possible. He had been attracted to her as soon as he met her, but knew he had to keep his distance. But his protectiveness comes out as the danger to her increases, and being near her makes him question his old lifestyle. He's beginning to picture a future with Ellie and Amelia, if he can just keep her safe long enough.
Ellie has also been attracted to Theo, but knows that there's no future with him. When her stalker appears in Dead River, she worries about the safety of the baby and Theo, and is ready to leave again. Theo promises to protect them, and she agrees to stay. She quickly falls for baby Amelia, and is determined to make sure that Theo gives her the life she deserves. As she spends more time with him and the baby, she sees a different side to him come out. She also sees his frustration with his injuries and how they've changed his life, and tries to make him see that he still has a lot to give.
The romance between Ellie and Theo has a lot of chemistry moving it along. Fortunately, they are also given the time to get to know each other, so they have more than just the physical binding them together. I loved the thoughtfulness that came out in Theo as he began to accept his feelings for Ellie. I really loved his Halloween surprise for her.
The suspense aspect of the book also kept things going for me. The stalker story line was pretty good, as his actions against Ellie escalated. The identity of the stalker was not a huge surprise, even though we had never met him. I was pretty sure of where he must have come from. That story line is resolved by the end of the book. There are two others that are ongoing. There is an escaped murderer that has not yet been recaptured, so will most likely make a reappearance in the next book. The biggest issue is the virus that has caused the town to be quarantined. It arrived with the mother of Theo's baby, and has made many people sick, with some fatalities. Theo's brother Flint is the sheriff who has to deal with the panic in the town along with the headaches of enforcing the quarantine. Their sister Gemma is a nurse at the clinic where the sick are being treated and the search for a cure is getting desperate. I am looking forward to their stories.
My issues with the book were pretty minor, but irritating. They would have been easily fixed by an editor's attention to detail. Two that stick in my mind were when Theo was talking about a horse's confirmation rather that conformation, and Ellie was thinking about the need to sack money away for the future rather than sock it away. There were a couple timing questions that briefly confused me, too. None of them were bad enough to ruin the story, but they did pull me out of it temporarily. The title was somewhat misleading, as there was really nothing secret about the baby. I would also like to know the relationship of these Coltons to the other Wyoming Coltons, especially as they live in the same area, but it was never mentioned.