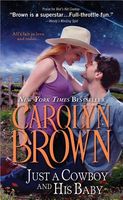 Series:
Spikes & Spurs
(Book 6)
She's Got Her Eyes on the Prize...
Gemma O'Donnell wasn't the first woman to win the ProRodeo buckle for bronc riding, but she was darn well going to be the second. What she didn't count on was her main competition sweeping her off her feet.
He'll Do Whatever It Takes To Win...
Trace Coleman isn't really after a title -- he needs the cash prize to buy his dream ranch. But one sexy, determined cowgirl keeps getting in his way. In his effort to take her out of the running, he risks losing both the title -- and his heart.
They're Both in For a Little Surprise...
Everybody's world is turned upside down when a pint-sized bundle of joy gets dropped right into Trace's lap...and suddenly all the stakes are higher.
Fun book to read. Gemma has put her hairdresser career on hold to follow a dream. She wants to be the second woman to win the title for bronc riding and take home the prize money. She'll then buy herself some land, start her own ranch, and find that cowboy and baby that's been predicted for her. She's doing very well, with only one other competitor really in her way.
Trace also has a dream. He wants to win enough money to buy his uncle's ranch. But in this series of rodeos he's in a fight for first place with Gemma. He figures that a little flirtation might distract her enough to give him the edge. He doesn't count on the effect she has on him.
I loved Trace and Gemma. She is feisty and determined and isn't going to let anything get in her way. Her first encounter with Trace shakes her up a bit. There are sparks when he touches her and she has to work hard not to let them distract her. Trace had been attempting to do just that, but it backfired when he found that he couldn't get her off his mind. That came in handy when he found himself rescuing her during a post rodeo dance. Trace seems pretty self-centered up to that point, with his confidence and his adoring groupies, but when Gemma passes out in his arms, he is the perfect gentleman. I loved the care he took of her.
This was the start of the relationship between Gemma and Trace. Though they remain fierce rivals in the rodeo ring, outside of it they become terrific friends. They have a lot in common and I loved seeing them learn about each other. The more time they spent with each other, the greater the attraction was, until they couldn't help but act on it. Each of them started to dream of the future, but neither wanted to rock the boat until the competition was over.
I loved the part where, between two of the rodeos, they went to help Trace's uncle on his ranch. They were each assigned ten at risk kids from the city. Gemma had the girls and Trace had the boys. I loved seeing how great they were with those kids. There was lots of fun banter, competitions between the kids, and some life lessons learned by all of them. Gemma and Trace also learned a bit about themselves as they were helping the kids.
The baby of the title shows up late in the book, though its story is not a surprise. There are hints throughout the book about what is going to happen. I loved Trace's reaction and the way he immediately stepped up. It was also fun to see him cope with not having a clue how to take care of a baby. He was so sweet and so determined. Gemma's presence and willingness to help him, made him care for her even more.
Gemma's feelings for Trace had been getting stronger the longer they were together. I loved seeing her dreams of the future adjust to the changes in her emotions. I also liked the way that her determination to win didn't change, but she also saw other possibilities. I loved the ending with the final competition and the events that unfolded after it. Trace had a much bigger romantic streak than I expected.
Another thing I enjoyed about the book was how important family was to both Gemma and Trace. It was fun to see how each of them coped with the attitudes of various family members, especially their mothers. I also had fun with how Gemma's girlfriends reacted to her relationship with Trace and the teasing she endured. It was great to see all the support that Gemma and Trace had for both their careers and their relationship.