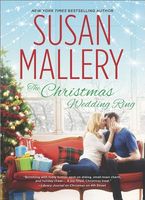 Series:
Triple Trouble
(Book 4)
A RING AND A PROMISE
In her youth, Molly Anderson had cherished gorgeous rebel Dylan Black even though he was too wild and only had eyes for her sister. But before he hightailed it out of town with a broken heart, he tossed her the unwanted engagement ring and promised Molly a great adventure someday. Well, since her life was now officially a royal mess, she decided to take Dylan up on his offer.
A guarded Dylan had always had a soft spot for Molly, so why not whisk her away for some no-strings-attached fun? He promised afterward they'd go their separate ways. But that was before she aroused his desire and stirred his cynical soul with her quiet courage. Perhaps some promises were meant to be broken...
Good story of two people at crossroads in their lives, how they helped each other and found love at the same time. Molly had known Dylan when she was a teenager and he was her sister's boyfriend. He'd been a bad boy motorcycle rider who always had a kind word for her awkward self. He left town the day of her sister's wedding, but not before promising Molly an adventure any time she wanted it, once she'd grown up.
Molly had had a huge crush on Dylan and was sad when Dylan left town. Fourteen years later her life is a mess and she needs a break. When she comes across the ring he had given her, she remembers his promise and decides to look him up, hoping for an adventure that will take her mind off her troubles. She screws up her courage and reminds him of his promise, challenging him to keep it.
When Dylan left their hometown he set out on a path that has transformed him into the owner of a successful motorcycle design company. It's so successful that he has had an offer to buy the company. He's not sure what he wants to do, as he spends so much time now on paperwork he no longer has time to do the design work that he loves. If he sells, he can concentrate on designing, but he would be working for someone else. If he doesn't he's still stuck with all the paperwork. When Molly arrives, he remembers the promise, and thinks that some time away may be just what he needs to clear his head and make a decision.
I loved seeing Molly and Dylan together. Molly still has her crush, but is working to keep it contained. She's grown out of her awkward stage, but still doesn't see herself as attractive enough to appeal to a hunk like Dylan. Her self esteem has taken a hit with the loss of her job and her ex-fiance's cheating. She's also undergoing a health crisis that has her on edge. But with Dylan she's learning how to have fun. She's also discovered that her crush never really went away, and being with Dylan those feelings are turning into love. She's impressed with the man he has become, not just his success but also the way she can talk to him about anything. When their attraction blossoms she has a hard time believing he could really want her, but he does a great job of showing her.
Dylan was a great guy. His "bad boy" status doesn't really apply any longer, as he is a responsible businessman. He was surprised by Molly's arrival and how pretty she had grown up to be. When he hears her request he realizes that helping her could help him also. I loved seeing how connected he felt to Molly from the start. As they began their adventure, Dylan seems to have an instinctive sensitivity to what Molly needs. He sees her insecurities and works hard to show her how special she is. The more time he spends with her, the stronger his feelings for her grow. In spite of his success, he still doesn't feel like he is the type of person she would want in her life.
When their adventure is over, both Molly and Dylan have decisions they have to make about their futures. Both of them discover that they are not happy without the other in their lives. I loved seeing the difference the trip made in Molly's outlook and how that affected her decisions. Dylan also had to face the fact that he had fallen in love with Molly, something he had never thought possible. I loved seeing what he did with his decisions. His big moment with Molly at the end was really sweet,
Previously published as The Wedding Ring Promise