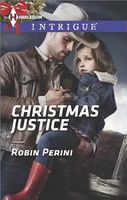 The new Sheriff in Trouble, Texas, had a lot to prove. The last thing needed was a gorgeous CIA analyst getting in his way -- at Christmastime no less!
Trouble's newly minted sheriff, Garrett Galloway, is determined to move on from his traumatic past. But when Laurel McCallister tracks him down and begs for help, he can't say no to the smart, beautiful CIA analyst. She's desperate to find the assailant who killed her niece's family -- and now wants her dead.
On the run, Garrett, Laurel and her young niece escape to a Texas ranch, but danger follows. Garrett's courage lessens Laurel's initial distrust of the mysterious lawman and sparks fly in the remote cabin. Now he must succeed for more reasons than avenging Laurel's family.
This book started with a bang (literally) and just kept going from there. Laurel was visiting her sister so she could watch her youngest niece while the rest of the family went to the school Christmas program. Laurel was horrified when her sister's car exploded, killing the whole family. Her sister lived long enough to tell Laurel to find Garrett Galloway and go to him for protection.
Garrett has been living and working under an assumed name for months. His family was also killed by a car bomb, and he was accused of treason. Garrett's friend and mentor, who is also Laurel's father, has been working to discover who set Garrett up. Garrett wasn't happy to have Laurel and Molly show up, because it meant that his cover was blown and the investigation into the identity of the real traitor has been compromised. Garrett can't refuse to help them, but he's worried that he won't be able to protect them any better than he did his own family. When they are attacked soon after they arrived, he takes them on the run to his hideaway. Garrett is attracted to Laurel, but with the accusation of treason hanging over his head he sees no possibility of a future for them.
Laurel and her sister had been raised by their father to be independent and not have to depend on anyone but themselves. She has a hard time at first trusting Garrett but knows she needs him to keep her and Molly safe. When she finds out who he really is, it takes her a little while to realize that she really can trust him. That trust is reinforced when she sees how good he is with Molly. In spite of the danger they are in, Laurel finds herself very attracted to Garrett, but can't think of the future until they are out of danger.
The mystery of the story was gripping from the very beginning. The idea of a traitor is the higher levels of the government is scary and the author made it seem very plausible. Laurel and Garrett were determined to find out who it is. They did everything they could to get away, but it always seemed like they were just one step ahead of the guys who were out to kill them. I loved seeing them work together, each with their strengths, to discover who it was. There were times when it was nearly impossible to tell who were the good guys. They were pretty much on their own since they didn't know who they could trust. They did end up getting some assistance from Daniel and Raven (
The Cradle Conspiracy
) as they got closer to unmasking the villain. I did start to suspect who the traitor was by the end, but the journey there was quite exciting. The final confrontation was very intense, and I couldn't read fast enough to find out how it turned out.