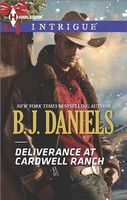 Series:
Cardwell Cousins
(Book 3)
When deputy sheriff Austin Cardwell rescues a woman in the worst blizzard in years, it's only the beginning. The dark-haired beauty has no memory of who she is and who -- or what -- she was fleeing. But she's terrified of the stranger who shows up at the hospital, claiming to be her husband.
Convinced that the mystery woman is in grave danger, Austin refuses to let her out of his sight. As desire builds between them, she seems ready to trust him. From Cardwell Ranch to the snowy wilds of Idaho, Austin vows to uncover her identity…before her past destroys any hope of a future.
Excellent book. It starts out with a bang and just keeps going throughout the book. Austin is on his way to Cardwell Ranch from his home in Texas, to celebrate Christmas and the opening of a new restaurant with his family. He is driving through a blizzard when he comes across a wrecked car. As he is checking it out he is attacked by an injured woman. After subduing her and convincing her that he won't hurt her, Austin is worried about why she seems so terrified.
Gillian doesn't know who she is or why she was in that car. She only knows that she feels like she can trust Austin. When a man shows up at the hospital claiming to be her husband, she knows she is in trouble. As she begins to remember what happened, she knows that the man is her brother-in-law and he is holding her sister hostage.
I loved Austin's determination to protect Gillian. For him, protecting the weak is second nature to him. Austin has always been the odd one out in his family, finding that doing his job is easier than dealing with family relationships. He missed his brother's wedding because he was working, and even now would rather help Gillian than spend time on the ranch with his family. Austin believed his instincts when he met Gillian's "husband" and saw how terrified she was. He is determined to keep an eye on her until he's sure she is okay.
Things kept getting more intense as Gillian is taken to an isolated cabin where her sister is being kept. Both are threatened with death if they don't give Marc what he wants. I was impressed with Gillian's sister and her strength of will as she tried to give Gillian the chance to escape. Austin's arrival was in the nick of time to save them both, even though Marc gets away. As Rebecca lies unconscious in the hospital, it is up to Austin and Gillian to follow the clues that she left in order to find that which is missing. The action kept getting more intense until the final confrontation.
As they work together Gillian and Austin feel an increasing attraction to each other. Austin's protectiveness also transforms into something more personal. I loved the sweet moments he showed, such as when he made breakfast for Gillian. He also finds that she is beginning to mean more to him than just the job. I loved seeing him begin to understand what has caused the changes in his brothers, and experience those changes himself. I loved the ending as he showed up at the ranch in time for Christmas, with Gillian and whole new outlook on life.