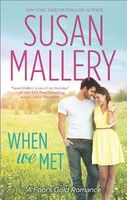 Series:
Fool's Gold
(Book 15)
Angel Whittaker earned his scars the hard way, but the scars that can't be seen are the ones that haunt him the most. Since he moved to Fool's Gold, California, he's cobbled together a life for himself as a bodyguard trainer. If he's not exactly happy, at least his heart is safe.
Working with pro-football superstars taught tough-talking PR woman Taryn Crawford one thing -- she can go toe-to-toe with any man. But then dark, dangerous former Special Ops Angel targets her for seduction…and challenges her to resist his tempting kisses.
Even in four-inch heels, Taryn never backs down. Unless, somehow, Angel can convince her that surrender might feel even better than victory.
Another really fun trip to Fool's Gold. This time we see Angel and Taryn, both of whom are fairly new to town. Angel and his friends have set up at bodyguard school in Fool's Gold and Taryn and her friends own a PR firm. Neither one is looking for anything permanent, but the chemistry between them has them willing to explore a little.
I loved both these characters. I've been waiting for Angel's story for awhile. I really loved getting more of his back story. Angel grew up in a small coal mining town which he left to join the military. He married young, but his wife and son died while he was deployed and he continues to feel guilty because he wasn't there to protect them. That constant pain keeps him from opening his heart to anyone else. But he does have a strong attraction to Taryn and after watching her for awhile makes his plans to seduce her. I loved the way he seemed to know her so well and what he had to do to get her attention.
Taryn is a city girl, born and bred. It wasn't her choice to move the firm to Fool's Gold and adjusting to small town life hasn't been easy. Having total strangers talking to her and knowing her business kind of freaks her out. Her father had been abusive and she learned the value of blending in early in life. She worked hard to change her life and hasn't shared her childhood with anyone. I loved her strength of character as she overcame that past to become the success she is. I really enjoyed her relationship with her three football player partners. She is great at standing up to them and dealing with their attitudes, but they are also great friends. She has noticed Angel also, and is attracted, but she does have trust issues. His methods of seduction are unique and appeal to her sense of adventure.
The connection that Taryn and Angel feel immediately is surprising to both of them. Neither one opens up about their pasts to other people, but they find it very easy to share with each other. The chemistry between them is hot, but there is also a deep friendship that develops. I loved how that friendship has them coming together in unexpected ways. Taryn is very much a city girl, a fashionista to the bone (loved the descriptions of her clothes). When work requires her to go on a camping trip, it's Angel she goes to for help in learning how to handle the great outdoors. In return, she offers to help him with his greatest challenge yet.
Angel has decided it's time to give back to his new community and Mayor Marsha gets him involved with a local youth group. He went into it expecting to deal with teen boys and was horrified to find out he was going to be a "Grove Leader" to eight seven year old girls. I loved seeing his panic as he read through the handbook to see what he was going to have to do. His relief when Taryn offered to help was obvious. The two of them made an incredible team. I loved seeing Angel's softer side come out as he dealt with all those little girls.
I loved seeing the changes that both of them went through. Taryn adjusts to the small town life and makes friends like she's never had before. Instead of holding herself apart, she starts to get involved with the people around her. I loved seeing her try to figure out how to help Bailey, and the way it showed her a new part of herself. Angel was a bit of a tough nut to crack when it came to opening himself up to love. He was still so messed up from the loss of his family that he was afraid to risk his heart again. There were scenes where he was remembering his family that were just heartbreaking and you could see why he was so cautious. The little girls had a huge part in breaking down the walls around his heart and showing him that he could love again. Taryn's complete understanding of his feelings was important to his ability to take a chance again.
Of course, in a Fool's Gold book there's always that spot where the guy freaks out and runs away from his destiny. When Taryn admits to herself that she loves Angel, and after the scare with the flood tells him so, he can't handle it. Usually we see the ladies all come together in support of the woman, with a night of booze and junk food. But Taryn is different and there is quite a fun twist on the night of support. I loved the parade with Angel and the girls and him finally seeing what was important. He did a nice bit of grovelling and I loved the help he got from the girls.