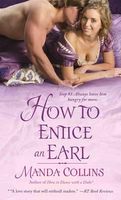 Series:
Ugly Ducklings
(Book 3)
Lady Madeline Essex is the last of the unwed "ducklings" in her family--and by far the most outspoken. But when she boldly enters London's most notorious gaming house in search of fodder for her novel, even her sharp tongue can't save her from the horrible crime she stumbles upon there. As luck would have it, first on the scene is the last man she wants to see her vulnerable. The one man who could tempt her heart...
Christian Monteith, the new Earl of Gresham, isn't much for card rooms and gaming hells. But as a favor to his former commanding officer, he's investigating a gamester for espionage on the night that Maddie ventures in looking more enticing than he's ever seen her. Suddenly, his feelings for his friend aren't so friendly anymore. And when her curiosity brings the impetuous novelist to the attention of a madman, Christian will stop at nothing to protect her--from a sinister plot that is far more dangerous than any stolen kiss...
Fun romance with just enough mystery to add some intensity. Maddie and Christian have known each other a long time. Their friends have been pushing them together for years, but all they are is friends. Things start to change the night she visits a gaming house and stumbles over a dead body. Christian was there for another reason, but doesn't hesitate to step in to protect Maddie from the consequences.
I really liked both Maddie and Christian. Of the three "ugly ducklings" she is the most independent and outspoken. She has no trouble stating her opinions, especially when it comes to the "proper" place of a woman. So she wasn't very happy to be left stranded and dependent on Christian's help. She is also determined to help clear her brother's name and ends up making a deal with Christian that she won't investigate without him. Spending all that time with Christian has her feelings for him changing.
Christian is handsome, charming, witty and quite sexy. He has been tasked with checking into rumors of espionage on the part of someone at the gaming hell, and is there the night that Maddie talks her brother into bringing her. There's something about her that night that has him looking at her differently. In spite of his assignment he can't leave her to fend for herself.
I really loved the progression of their romance. They start out as friends first, never having looked at each other as anything else. Christian was the first to notice that things were changing that very first evening as he held her when she cried over what she had seen. He tried hard to ignore how right she felt in his arms. One of the things I liked best about Christian was how well he understood Maddie. He respects her intelligence and her need to be involved. He is protective, but able to respect her abilities, even though some of her schemes make him wonder about her sanity. Maddie also notices that she's feeling different about Christian. When he kisses her it opens the door to a flood of feelings. Besides the physical attraction she also sees that there is more to him. She gets frustrated by his need to protect, but as she learns more about him she begins to understand, even though she still fights against it. She is also protective of him and his feelings. The attraction between them is strong, and it's fun to see how easily they embrace it. Neither seems to be aware that the reason it is so wonderful for them is because they do love each other.
I really liked the fact that there are no huge misunderstandings or crises that tear them apart or have to be overcome. Maddie learns that it's okay to lean on Christian for help and support. She was surprised when he stood up to her father over his attitude toward her and it just added to her feelings for him. Christian learned that the most important thing he could do to show Maddie how much he cares is to talk to her, to not keep things from her just to protect her.
There are a couple of interesting twists and turns to the mystery that kept me guessing about the culprit. Maddie's brother starts out looking pretty bad, but by the end things have turned around for him. The final confrontation is pretty intense. I enjoyed seeing how Maddie got involved and how important it ended up being that she did.