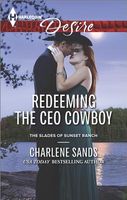 Series:
Slades of Sunset Ranch
(Book 4)
Ten years ago = ancient history…right?
So what if former rodeo champion turned construction mogul Casey Thomas is back…living right next door? Susanna Hart is busy running her Sweet Susie's pastry business and raising her two-year-old cousin. Why pay any attention to the man who took her virginity ten years ago, then left town?
Casey still feels guilty for taking advantage of his little sister's best friend. A helping hand is just what her business -- and his conscience -- need. But guilt isn't his only motivation. Casey's got a sweet tooth for Susie. And the more she resists, the sweeter it gets!
Susie is really busy running her pastry business out of her home and raising her little cousin. She has dreams of opening her own bakery, but right now is barely making ends meet. Having her best friend's big brother move back in next door shouldn't make any difference to her, even if he had been her first love and the one she gave herself to first. But Casey wants to be friends and she can't say no to him. It isn't long before he and his pup have made themselves part of her life and her heart. Susie knows that he's not staying and doesn't want her heart broken again, so she's trying to resist.
Casey has come to town for two reasons. First, he's setting up a new office for his construction business and finishing construction on a friend's restaurant. Second, he's trying to make amends for his actions of ten years ago. He feels guilty about what he did and how he handled it. He wants to help her with her business, but knows her pride won't allow it if she figures out what he's doing. Pretty soon there's more than guilt that has him wanting to help her, He has fallen for her independence, her determination, and her sweetness.
I liked seeing Casey and Susie talk about what had happened in the past, though Susie's pride wouldn't let her admit to him how much she had loved him at the time. Nor would Casey admit how much he had cared for her. Now that they're living so close, they have to deal with the resurgence of those feelings. Casey is fighting them hard, even as he tries to help her with her business. I loved seeing him a bit jealous when he took her to his job site and Zane was so nice to her. It isn't until the end that we find out what is holding him back from telling her how he feels. Susie's feelings for Casey continue to grow and just as she's thinking they have a future together she overhears him talking about why he had come to Reno. She's hurt and brokenhearted all over again. I enjoyed the ending and the surprise that Casey got when he revealed all to Susie.
The only reason I didn't give this emotional book a five instead of a four was a problem with Susie's father's diagnosis of multiple sclerosis. A part that talked about his bad days and then dealing with his imminent death gives the impression that MS is a fatal disease. It is not, and that brought my enjoyment down a notch.