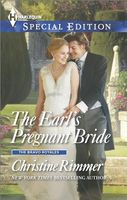 Series:
Bravo Royales
(Book 8)
THE STICK TURNED (ROYAL) BLUE…
And now the princess is in a pickle. Because the night that Genevra Bravo-Calabretti and the new Earl of Hartmore, Rafael DeValery, turned to each other, it was for comfort upon the death of his brother -- the man who was about to propose to Genny. It was not supposed to change their lives forever.
But it had. For Rafe, it cemented his awareness that he'd been in love with Genevra since forever. And for Genny, it made her realize that Rafe was not the second-chance brother, but the one who'd held her heart all along…now all she had to do was convince him of that. Hopefully before the new heir(ess?) to the estate arrived…
Very good book with a friends to lovers theme. Rafe and Genny's attempts to comfort each other over his brother Edward's death had turned physical and passionate. Now Genny's pregnant and Rafe insists that they marry. They've been friends a long time and marrying is no hardship for either. There's also this new and intense attraction between them.
I loved the obvious affection they had for each other, even though neither would speak of love. Rafe already knew that he was in love with her, but he was afraid to tell her. He has secrets about the night he and his brother were in that deadly car accident and he knows if he confesses his love he's going to have to tell her all. He is afraid that she would reject his love if she knew, so he keeps quiet and tries to be satisfied with what he has. He certainly can't complain about the passion between them. I really liked the way he showed how much he cared, involving Genny in the work on the estate and showing her how special she is. It takes a scare with Genny disappearing for him to take his courage in hand and risk it all.
Genny didn't start out knowing she was in love with Rafe. Her intention had always been to marry Edward, because Hartmore would be his. She had convinced herself she was in love with him. It wasn't until after his death and her marriage to Rafe that she realized the truth of her feelings. But she too hesitates to declare her feelings, because she doesn't feel like she's good enough for him. Genny looks at her sisters and sees beautiful and accomplished women and feels that she has nothing worthwhile to offer anyone. Even in college all her interests led back to caring for Hartmore. Her insecurities show up several times when dealing with other women at the estate. I really liked seeing the changes she goes through as she overcomes those feelings with Rafe's attentions.
The secondary characters in the book are all wonderfully done, with each having their own purpose in the story. I especially loved Rafe's grandmother and her way handling all the crises. Young Geoffrey was also a favorite with his clear adoration of his Uncle Rafe and Genny and theirs for him. Though he could have come across spoiled because of his occasional tantrums, they were obviously the result of the stresses he was under. His mother Brooke was one character that was hard to take. She came across as pretty much of a selfish bitch, not seeming to care what her son really needed. I was glad to see her redeem herself in the end. The other two women, Fiona and Melinda, were definitely characters that were unlikable. I detested Fiona's attitude toward her children and her marriage, and some of the things she said to Genny were terrible. Melinda came across as so sweet, but Genny was great at seeing through her. I loved seeing Genny warn Rafe to watch out for her, but typical man he didn't believe her until it was too late. The kitchen scene was great and I loved seeing it unfold. Genny's part was wonderful.